The hm 780 DC-V sealing device possess the newly developed hawo htr 780 Process Controller. All functions and settings are provided for the user in this central operating unit. Operation is even easier with the accompanying hs 780 PC software. It allows simple programming of the device via PC. The optional hs 780 PC-PT extension module additionally allows continuous documentation of the critical process parameters on the PC. The hm 780 DC-V can also be completely operated with a barcode scanner.
Main features:
Validatable process in accordance with ISO 11607-2
Integrated printer with FontMatic
SealCom ht 780 SC communication module (optional)
Interfaces for external tracking systems
Energy-saving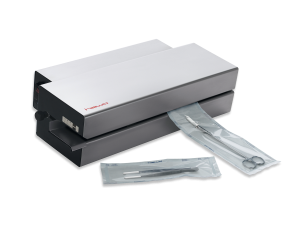 The reproducibility of packaging processes is crucial to ensure that sterile barrier system integrity is attained and will remain so until opened by the users of sterile medical devices. The process parameters temperature as well as contact pressure and sealing speed (only hm 780 DC-V) are controlled, monitored and can be directly documented on the packaging (Seal Check Mode). The sealing process of the hm 780 DC-V is validatable and fulfils all necessary requirements for process validation according to EN ISO 11607-2:2006 as well as the there from resulting specifications of the German Society for Sterile Supply (DGSV).
Never before has the operation of a sealing device been so simple! From now on, the hm 780 DC and hm 780 DC-V can also be completely operated with a barcode scanner. Basic settings like sealing temperature, font size, etc. can be easily programmed via the scanner. Important data such as personnel number and product designation can be read directly by the scanner. The device automatically recognizes incoming information and assigns it to the corresponding print function. In addition, print strings can be set and imported via barcode. The barcode lists can be easily and individually created with the accompanying software.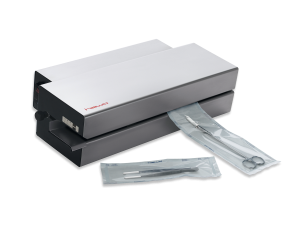 | | | |
| --- | --- | --- |
| | HM 780 DC | HM 780 DC-V |
| Dimensions | 555 x 250 x 145 mm | 555 x 250 x 145 mm |
| Weight: | approx. 14kg | approx. 14kg |