The new heat sealer surpasses all its predecessors, offering smart operation, comprehensive digitisation, networkability and sustainability, reflecting the spirit of industry 4.0. The design of the NanoPak is based on the award-winning design of hawo's Generation Easy series. Hawo has designed the devices of this product generation to meet the high standards, in terms of professionalism, aesthetics and solidity, as required in surgeries and SPD (CSSD's) in hospitals while always conforming to the strictest safety guidelines.
Main features:
AppCtrl – Touch Screen
DocLink – Communikation
DataMatic – USB Data Transfer
SizeMatic – Determining Bag Length
IntelligentScan – Programming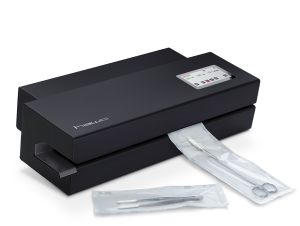 NanoPak is hawo's most powerful heat sealer. Below the lid is a high-end processor to ensure that NanoPak can deliver top results over a long time period. A 4,3 inch touch screen and the Linux operating system together with the AppCtrl user applications, which allow you to call up instrument and programming functions, make operation and validation child's play.
The tried and trusted hawo SealPeak technology for the sealing seam. Hawo SealPeak sealing seams are 12 mm (0,5 inch) wide, flat seams with a so called barrier of extremely high solidity at their centre, the SealPeak. The seal strength increases steadily from the edges towards the SealPeak. The advantage of these soft edges is that the instruments cannot break through the edges, but gently pierce them and are then caught by the SealPeak at the centre. Furthermore SealPeak sealing seams have outstanding peel properties and do not fray, even if the peel direction is disregarded by the user. Obviously NanoPak is suitable for the sealing of all known, sealable, pre-fabricated sterile barrier systems, uncoated Tyvek, as well as polyoefine packaging.