Packaging with the aid of the hpl 500 D / D-V possesses an optimum protection to the packed goods during transport and storage and satisfies the highest quality and safety standards. (hpl 500 D-V: validatable process in accordance with en iso 11607-2)
Main features:
High welding capacity due to rotary operation mode
Device is automatically switched off if the welding temperature deviates beyond the tolerance
Constant contact pressure, even with different film thicknesses for constant and reproducible results
Any variation of film length, width and gusseted pouches and reels
Validatable process in accordance with ISO 11607-2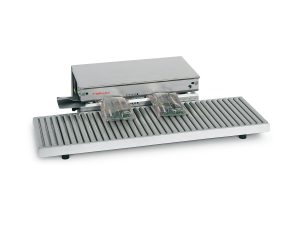 The process parameters temperature and sealing speed are controlled and monitored directly by the hpl 500 D-V sealing device. Deviant process parameters are also indicated directly by the device (validatable process according to en iso 11607-2:2006). thanks to the additional rs 232 interface for the connection to external documentation systems (e. g. hawo ht 180 pt-usB), the hpl 500 D-V is ideal for medical packaging with thermoplastic fi lm (e. g. header bags; inappropriate for packaging according to en iso 11607-1:2009, en 868-4:2009 and en 868-5:2009).