The HAEMATOKRIT 200 delivers high-performance hematocrit centrifugation and convenient ergonomics and versatility for the modern laboratory. Within a compact, elegant frame, the HAEMATOKRIT 200 is able to hold up to 24 capillaries per run and achieves best results within seven minutes. The hematology rotor also features a lid that doubles as an evaluation disc for quick and easy analysis. To maximize its functionality and footprint, the HAEMATOKRIT 200 is additionally supported by a 20-place, buffy coat analysis rotor.
Main features:
Compact hematocrit centrifuge with all metal containment

20-place rotor for buffy coat analysis

Evaluation disc lid

Quiet Operation
Easy-Lift™
Safety-Lock™ Lid
FDA registered centrifuge manufacturer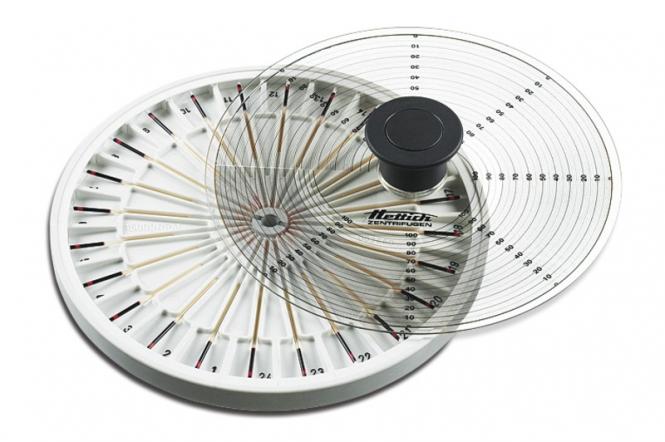 With its powerful and ergonomic features, the HEMATOCRIT 200 meets the requirements of the modern laboratory and sets a new standard for hematology centrifugation.
ELIMINATE DISTRACTIONS
In accordance with OSHA standards, excessive noise in the laboratory can lead to distractions, stress, anxiety, high blood pressure, and miscommunication. With Quiet operation, the HAEMATOKRIT 200 is as quiet as a normal conversation. By reducing its noise, the Haematokrit 200 with Quiet operation contributes to a calm, safe and productive work environment and will not increase noise levels within your lab.
Advanced safety features of the HAEMATOKRIT 200 include its all-metal containment and the Hettich Safety-Lock™ lid, which ensures a safe, tight closure on the centrifuge chamber during operation.
Additionally, the HAEMATOKRIT 200 employs the Hettich Easy-Lift™ lid that features stay-in-place positioning and lid-drop protection. The lid further limits repetitive stress injuries, spillage, and accidental sample disruption when loading and unloading your centrifuge.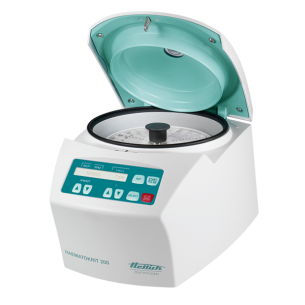 | | |
| --- | --- |
| Dimensions | 228 x 261 x 353 mm |
| Weight: | approx. 10kg |
| Max Capacity | (20/24) Capillaries |
| Max RPM | 13,000 |
| Max RCF | 16,060 |
| Refrigerated | No |