The HAEMATOKRIT 200 delivers high-performance hematocrit centrifugation and convenient ergonomics and versatility for the modern laboratory. Within a compact, elegant frame, the HAEMATOKRIT 200 is able to hold up to 24 capillaries per run and achieves best results within seven minutes. The hematology rotor also features a lid that doubles as an evaluation disc for quick and easy analysis. To maximize its functionality and footprint, the HAEMATOKRIT 200 is additionally supported by a 20-place, buffy coat analysis rotor.
Main features:
Compact hematocrit centrifuge with all metal containment

20-place rotor for buffy coat analysis

Evaluation disc lid

Quiet Operation
Easy-Lift™
Safety-Lock™ Lid
FDA registered centrifuge manufacturer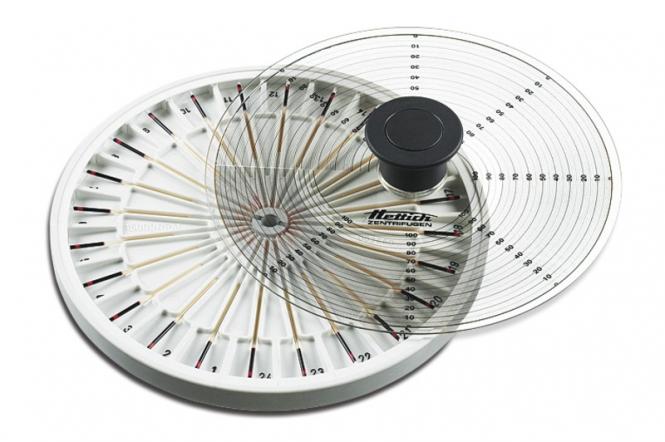 With its powerful and ergonomic features, the HEMATOCRIT 200 meets the requirements of the modern laboratory and sets a new standard for hematology centrifugation.
ELIMINATE DISTRACTIONS
In accordance with OSHA standards, excessive noise in the laboratory can lead to distractions, stress, anxiety, high blood pressure, and miscommunication. With Quiet operation, the HAEMATOKRIT 200 is as quiet as a normal conversation. By reducing its noise, the Haematokrit 200 with Quiet operation contributes to a calm, safe and productive work environment and will not increase noise levels within your lab.
Advanced safety features of the HAEMATOKRIT 200 include its all-metal containment and the Hettich Safety-Lock™ lid, which ensures a safe, tight closure on the centrifuge chamber during operation.
Additionally, the HAEMATOKRIT 200 employs the Hettich Easy-Lift™ lid that features stay-in-place positioning and lid-drop protection. The lid further limits repetitive stress injuries, spillage, and accidental sample disruption when loading and unloading your centrifuge.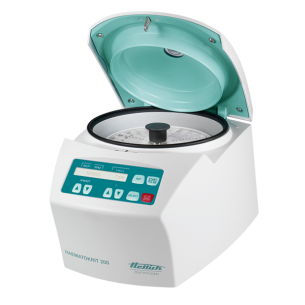 | | |
| --- | --- |
| Dimensions | 228 x 261 x 353 mm |
| Weight: | approx. 10kg |
| Max Capacity | (20/24) Capillaries |
| Max RPM | 13,000 |
| Max RCF | 16,060 |
| Refrigerated | No |
Does this centrifuge conform to IVD directive 98/79/EC?
Yes. This centrifuge conforms to the In-vitro Diagnostics (IvD) EU directive. This means that the products are guaranteed a standardised level of quality and safety.
Does the manufacturer comply with ISO 13485?
Yes. Hettich complies with ISO 13485. This standard relates to the design and manufacture of medical devices.
Can you perform a UKAS calibration on this centrifuge?
We can perform a UKAS calibration for speed, temperature and time. For more details, please consult our schedule.
Does the centrifuge have out-of-balance detection?
Yes. All Hettich centrifuges have an out-of-balance detection system built into the centrifuge.
Do you also supply the tubes and bottles?
We have stock of some, but not all tubes. Please contact us with more details of your requirements.
What is the warranty period?
All Hettich centrifuges come with a 2-year warranty as standard.
But what if I want a longer warranty?
We can arrange a longer warranty for a small fee.
Are these products CE marked?
Yes. All Hettich centrifuges are CE marked.
Can you autoclave the rotor, buckets and adaptors?
Yes. All Hettich accessories can be autoclaved.
Are spare parts readily available?
We stock thousands of centrifuge spare parts in our London warehouse. However, if we do not have the part in stock, we can source it from the manufacturer. Hettich guarantees that all spare parts will still be available for purchase 7 years from the date production has ceased.
What is the typical lead time of this centrifuge?
We hold stock of centrifuges at our London warehouse. If the centrifuge is in stock at the time of ordering, then we can deliver it to you by the next working day. If the centrifuge is not in stock, we will have to order the instrument from the manufacturer. In this case, delivery time is normally between 2 and 4 weeks.
Where is this centrifuge manufactured?
All Hettich centrifuges are made in Germany.
What happens if there is a power failure, or a fault with the centrifuge and my samples get stuck inside?
All Hettich centrifuges have an emergency lid lock release, which can be activated in the event of a lid-lock failure. Please contact our technical team should this happen.
How do I dispose of the centrifuge when it comes to the end of its life?
We can collect your centrifuge and recycle it responsibly, ensuring that any harmful substances are recovered in the process. A charge is sometimes applicable for this service, depending on the make and model. Please contact us for more details.
Do you offer training on this centrifuge?
Yes. Henderson Biomedical can offer training. Please contact us for more details.