LEEC CO2 Incubators GA2000 - GA3000 Research Incubators
LEEC Research and standard CO2 incubators set advanced standards in performance and freedom from contamination. The two Research models have the added benefit of a high temperature decontamination facility (95°C).
Main features:
ADVANCED MICROPROCESSOR CONTROL
ACTIVE CONTAMINATION CONTROL
IN-VIVO SIMULATION
Infrared CO2 sensor
Fan assisted chamber for precise culturing conditions The specially developed microprocessor controller gives the user day to day control over all alarm settings, alarm delay and calibration adjustment. These settings are protected by an anti-tampering procedure. Sensors placed within key areas of the chamber constantly monitor and enable the control system to optimise temperature and CO2 levels. After door opening, the culture conditions quickly recover without overshooting, and stable control is maintained. Profiled heating, a technique developed by LEEC, eliminates all risk of "hot-spots".
All models have fan assisted uni-directional airflow in the chamber, an in-line HEPA filter and an ultra smooth stainless steel chamber with rounded corners. Indirectly heated inner glass door(s) remain condensation free. These features all help to reduce the risk of contamination. The two Research models (GA2000 and GA3000) also have a high temperature decontamination facility (95°C) which is operated by a key. User experience has shown high temperature to be especially effective in eliminating culture contamination.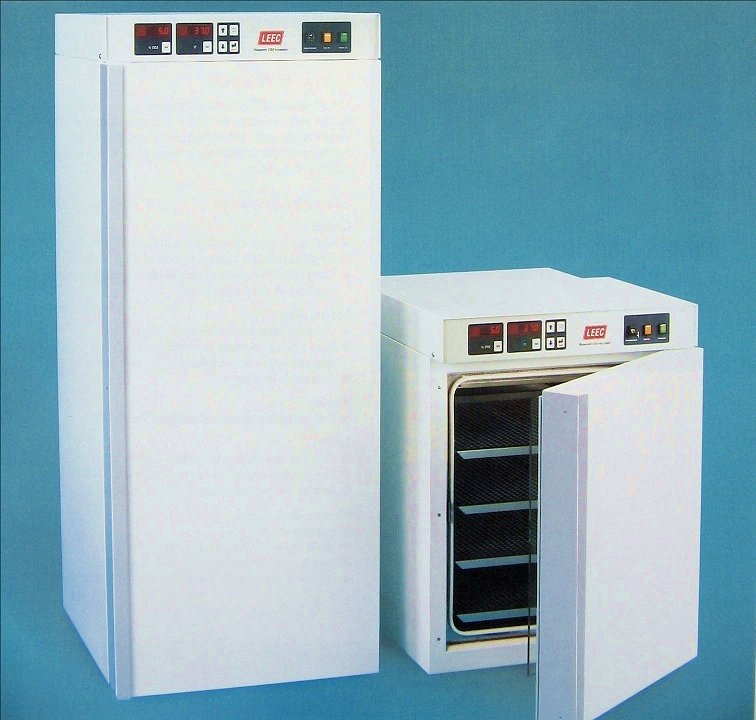 Overall Dimensions
Model
Capacity
External – mm
Internal – mm
Shelves
Weight
Power Rating

GA2000

GA2010

150 litres
880h x 635w x 660d
600h x 510w x 500d

4

4

85kg

85kg

600W

480W

GA3000*

GA3010*

320 litres
1550h x 635w x 660d
1275h x 510w x 500d

6

6

135kg

135kg

850W

600W
SPECIFICATION
Model

Research models

(GA2000 / GA3000)

Standard models

(GA2010 / GA3010)

TEMPERATURE RANGE

CONTROL

VARIATION

RECOVERY

5° above ambient to +60°C

<±0.1°C at 37.0°C

<±0.2°C at 37.0°C

Typically <6 minutes

5° above ambient to +60°C<±0.1°C at 37.0°C

<±0.2°C at 37.0°C

Typically <6 minutes

CO2 RANGE

CONTROL

RECOVERY

CO2 DETECTOR

0.1 to 20.0%

<±0.2° at 5.0%

Typically 3 minutes

Infrared (drift free)

0.1 to 20.0%<±0.2° at 5.0%

Typically 3 minutes

Infrared (drift free)

RH RANGE

All models: Ambient or 95% by forced evaporation

CONSTRUCTION

Stainless steel chamber (304 grade). Polyester powder coated stainless steel body with anti-microbial paint as standard. Heated inner glass door(s). Fan assisted. CFC free insulation.

ALARMS

High / Low Temperature

High / Low CO2

Time Delay

Remote Connections

High / Low Temperature

High / Low CO2

Time Delay

Remote Connections

HIGH TEMPERATURE DECONTAMINATION FACILITY (95°C)
YES
NO