NUVE BM 30 Stirred Water Baths
Very accurate temperature control, N-Prime™ programmable microprocessor system and efficient insulation ensure that BM 30 stirred water bath offers excellent performance.
Main features:
Useful volume: 17 liters
Temperature range: Ambient temperature + 5°C / 99,9°C
Easy programming with one button, just turn and push
Programmable alarm limits
Programmable delayed start function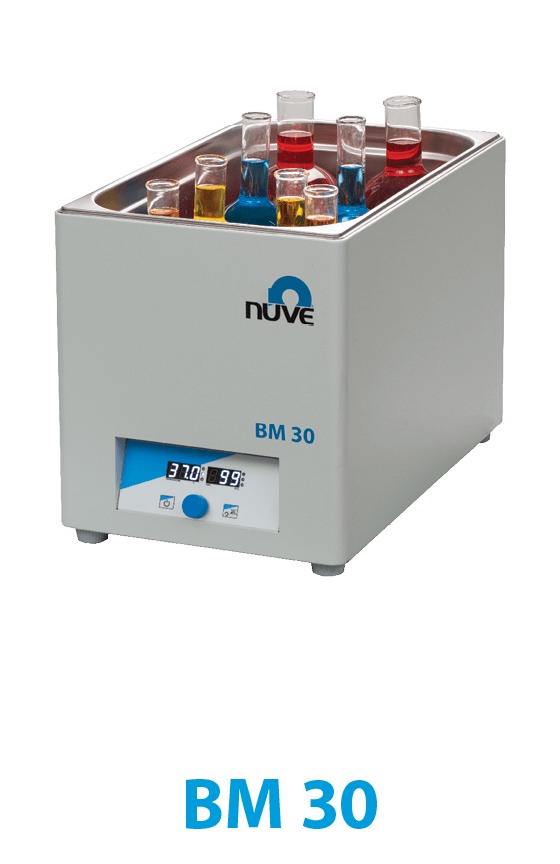 The large, bright displays and functional LEDs are visible at a distance and the control panel is set at an angle for convenient data input plus out of the way of spillages.
A range of accessories includes transparent and steel lids, tube and flask racks for maximum storage.
| | |
| --- | --- |
| Tank Volume, liters | 30 |
| Useful Volume, liters | 17 |
| Circulation Pump Capacity | 16 lt/min |
| Temperature Range | Ambient Temperature +5°C / 99,9°C |
| Temperature Sensor | Fe-Const |
| Control System | N-Prime™ Programmable PID Microprocessor |
| Displays | LED Displays for temperature and time |
| Temperature Setting and Reading Sensitivity | 0,1°C |
| Temperature variation @37°C | ± 0,1°C* |
| Temperature fluctuation @37°C | ± 0,01°C* |
| Programmable Alarm Limits | ± 0,5°C / 5°C |
| Timer | 1 min – 99,9 hours + Hold Position |
| Delayed Start Timer | 1 min – 99,9 hours |
| Selectable Recording Frequency on Memory Stick | 10 or 30 second, 1,5,30 or 60 min |
| Inner Surface Structure | Stainless Steel |
| External Surface Structure | Electrostatic Powder Coated Stainless Steel Sheet |
| Power Supply | 1.550 W |
| Power Consumption | 230 V / 50 Hz |
| Internal Dimension (WxDxH) mm | 300x503x195 |
| External Dimension (WxDxH) mm | 332x540x375 |
| Packing Dimensions (WxDxH) mm | 680x420x650 |
| Net/Packed Weight Kg. | 15 / 18 |