NUVE EC 160 CO2 Incubator
With its clean chamber conception of rounded corners, no crevices (even in the racking system) for contaminants to hide and with gentle air circulation, the EC 160 is designed to resist contamination and protect your valuable cultures. Fast temperature recovery, without any overshoot continues this substantial protection.
Main features:
Chamber Volume: 160 liters
Temperature range: Ambient Temperature +7°C to 50°C
Programmable temperature alarm range: ± 0,5°C to 5°C
Air jacketed heating system
Programmable CO2 alarm range: ± 0,5 % to 5 %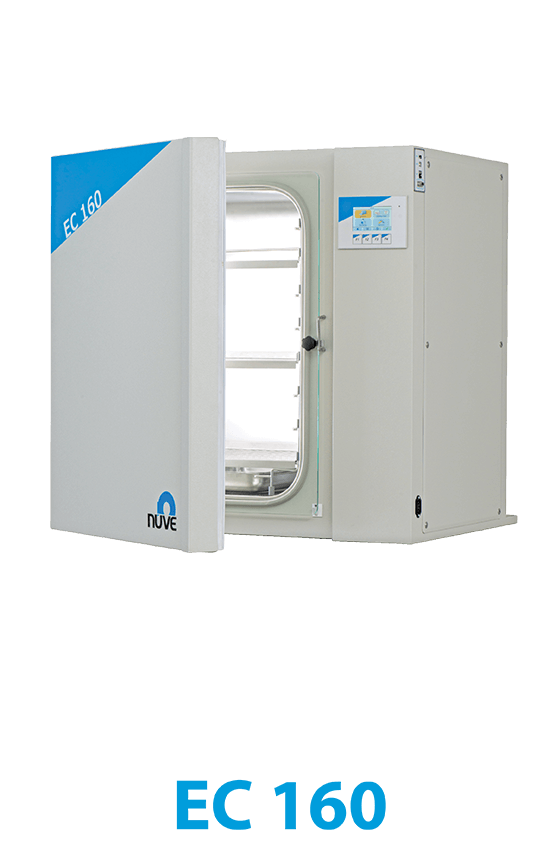 Comprehensive N-Smart™ control system keeps the user fully informed with display of set and actual parameter values. Should any alarm situation occur, a variety of alerts can be invoked. Optional AlerText™ will send a text message to you anywhere in the world and could include the NÜVE service support for fast response.
Wet disinfection by NüveDis™ ensures a clean chamber. Removing the shelves and racks (only 20 seconds!) permits use of the nUVeray™ ultra-violet option that can achieve sterilization in a very short time.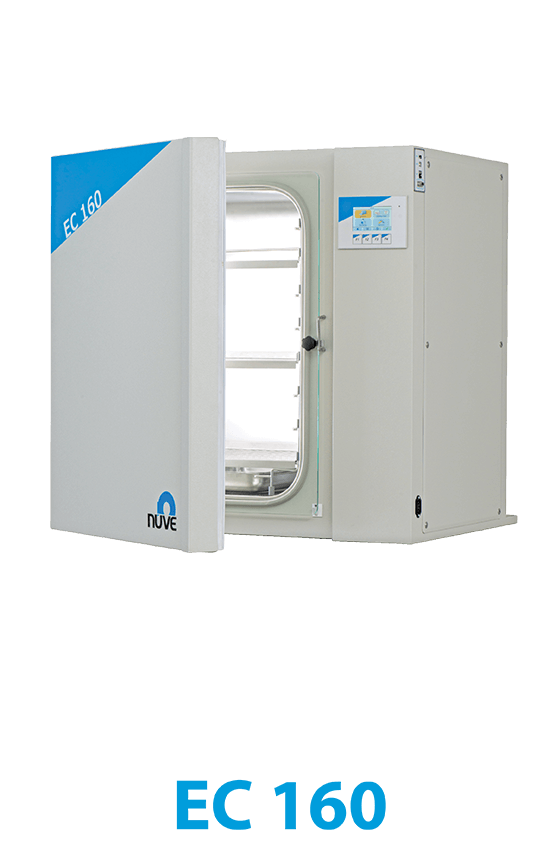 | | |
| --- | --- |
| Control System | N-Smart™ microprocessor control system |
| Temperature Range | Ambient temperature +7°C / 50°C |
| Temperature Set & Reading Sensitivity | 0,1°C |
| Temperature Variation / Fluctuation (@37°C  ) | +0,3°C / +0,1°C |
| Programmable Temperature Alarm Range | +0,5°C / 5°C |
| Temperature Sensor | Pt 100 |
| CO2 Range | 0% – 20% |
| CO2 Set & Display Sensitivity | 0,1% |
| CO2 Variation / Fluctuation | +0,3% / +0,1% |
| Programmable CO2 Alarm Range |  +0,5% to 5,0% |
| CO2 Sensor | Infra-Red (IR) |
| Calibration | Auto-zero in every 12 minutes |
| Contamination resistance | Infrared sensor, Automatic zeroing gas line and 0.22 µm filter in the CO2 gas inlet line |
| Relative Humidity Level | 95% RH + %5 |
| Recovery Times after 30 sec. door opening | To 36,5°C  8 min, to %4.9 CO2 3 min |
| Disinfection | NüveDis™ 90 °C password protected moist disinfection |
| Chamber Volume, Material & Design | 160 Liters   Stainless steel   Rounded corners – No fittings |
| Number of Shelves (standard / maximum) | 3 / 8 |
| Shelf Load Area (WxD) mm | 465 x 400 |
| Shelf Capacity | 20×90 mm / 56×55 mm Petri dish and 15×250 ml flask |
| Casing / Insulation Materials | Electrostatic powder coated steel / Aluminum foil coated glass wool |
| Display | 4,3" Colourful TFT LCD Display |
| Data Recall | 7 years data record with NüveTrack™ |
| Data Reporting | NüveCloser™ software and USB port for external memory |
| Alarms | Audible and visual messages, NüveWarn™ remote alarm system. Optional AlerText™ GSM Alarm module |
| Power Consumption | 900 W |
| Power Supply | 230 V – 50 Hz |
| Internal Dimensions (WxDxH) mm | 500 x 460 x 700 |
| External Dimensions (WxDxH) mm | 917 x 725 x 905 |
| Packing Dimensions (WxDxH) mm | 960 x 780 x 1200 |
| Net/Packed Weight kg | 117 / 138 |