NUVE EN 055/120 Incubators
Excellent incubation conditions are provided by this series of EN incubators for applications in biology and microbiology laboratories such as medical and veterinary fields; research and quality control examinations in pharmaceutical, food and cosmetics industries and biotechnology.
Main features:
Two different sizes: 055 and 120 liters
Temperature range: Ambient Temperature +5°C / 99,9°C
Easy programming with one button, just turn and push
Programmable alarm limits
Highly visible dual displays for temperature and time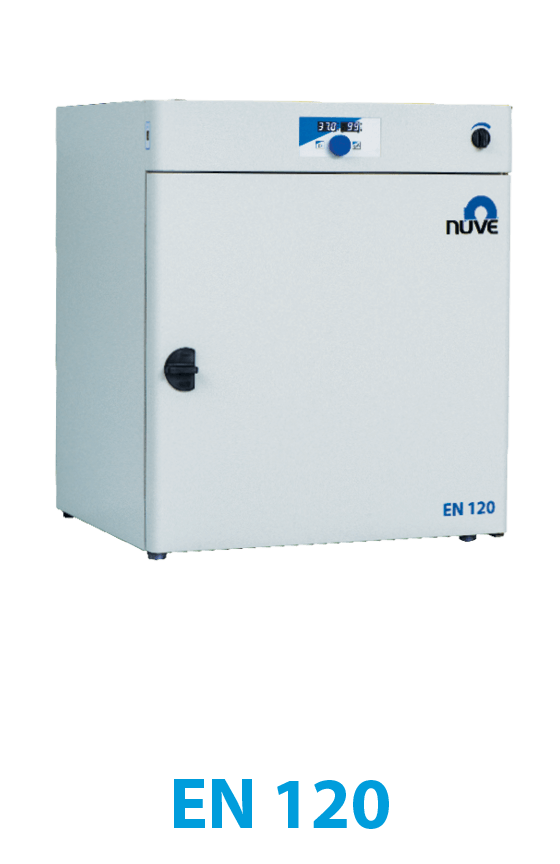 Minimized potential for cross-contamination is assured by natural convection without turbulence.
Precise temperature control, ensuring that your samples remain in a stable environment, is achieved N-Prime™ control system preventing drift and offering fast temperature recovery after door opening.
EN 055
EN 120
Temperature Range
Ambient Temp + 5°C / 99,9°C
Temperature Sensor
Fe-Const
Control System
N-Prime ™ Programmable Microprocessor
Displays
LED Displays for temperature and time
Temperature Set and Reading Sensitivity
0,1°C
Temperature 37°C*
≤ ±0,5°C
Temperature Fluctuation 37°C*
±0,1°C
Programmable Alarm Limits
±0,5°C/5°C
Timer
1 minute – 99,9 hours + Hold Position
Delayed Start Timer
1 minute – 99,9 hours
Recording Time Interval on External Memory
10 or 30 second; 1- 5 – 30 – 60 minutes
Useful Volume, litres
55
120
Number of Shelves (Standard/ Max.)
2/7
2/10
Internal Material
Stainless Steel
External Material
Electrostatic Powder Coated Steel Sheet
Power Consumption
350 W
400 W
Power Supply
230 V – 50/60 Hz
Internal Dimension (WxDxH) mm
420 x 370 x 365
500 x 480 x 500
External Dimension (WxDxH) mm
645 x 560 x 710
730 x 670 x 850
Packing Dimension (WxDxH) mm
720 x 650 x 930
800 x 750 x 1070
Net/Packed Weight Kg
46 / 49
66 / 71
* At 22 ° C ambient