NUVE EN 300/400/500 Incubators
With dimensions favouring labs with limited bench space where wall-mounting of shallower incubators would be an advantage, EN 300, EN 400 and EN 500 incubators are regular units for customers looking for economical incubators.
Main features:
Three different sizes: 22, 44 and 120 liters
Temperature range: Ambient Temperature +5°C / 80°C
Anodic-oxidated aluminum chamber
Easy programming with one button, just turn and push
Programmable alarm limits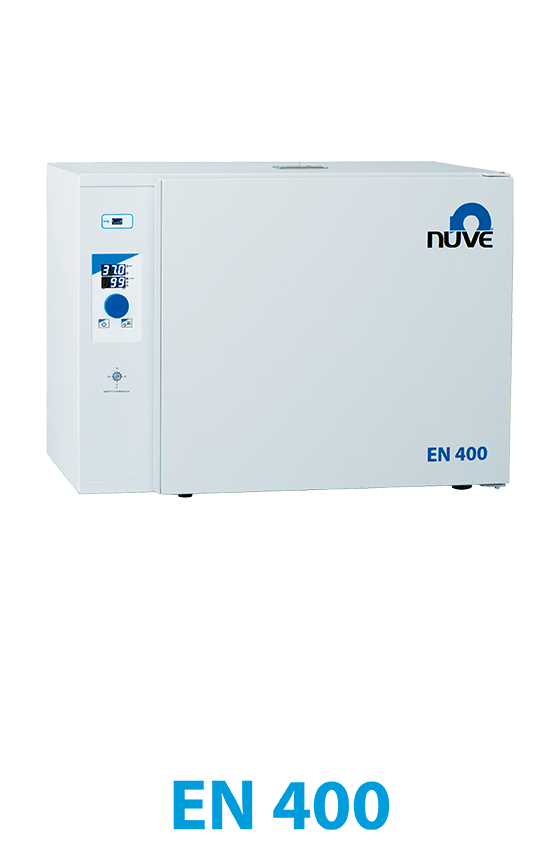 Minimized potential for cross-contamination is assured by natural convection without turbulence.
N-Prime™ guarantees accurate temperature control and keeps samples at set temperature and ensure fast temperature recovery after door opening.
Operated programs can be transferred to memory stick through USB port for traceability.
EN 300

EN 400

EN 500

Temperature Range

Ambient Temp +5°C / 80°C

Temperature Sensor

Fe-Const

Control System

N-Prime™ PID Programmable Microprocessor

Displays

LED display for temperature and time

Temperature Set and Display Sensitivity

0,1°C

Temperature Variation (up to 40 °C)

±0,5°C

Temperature Fluctuation

±0,1°C

Programmable Alarm Limits

+0,5°C / 5°C

Timer

1 minute – 99,9 hours + Hold Position

Delayed Start Timer

1 minute – 99,9 hours

Selectable Recording Frequency on Memory Stick

10 or 30 seconds; 1 – 5 – 30 or 60 minutes

Useful Volume (liters)

22

44

120

Number of Shelves (Standard/Max)

2/6

2/7

2/10

Internal Material

Anodic-oxidized Aluminum

Anodic-oxidized Aluminum

External Material

Electrostatic Powder Coated Steel

Power Consumption

100 W

250 W

350 W

Power Supply

230 V – 50 Hz

Internal Dimension (WxDxH) mm

300x240x300

420x320x360

500x490x500

External Dimension (WxDxH) mm

555x380x460

705x475x540

785x635x680

Packing Dimension (WxDxH) mm

640x470x640

790x570x750

870x740x860

Net/Packed Weight Kg

26 / 31

40 / 47

60 / 70
At 22°C ambient temperature, when the ventilation duct is closed