NUVE FN 055/120 Dry Heat Sterilizers / Ovens
With its advanced N-Prime™ microprocessor control system and PID temperature management, these FN units offer very precise, constant temperature. The dual displays show large, bright characters, visible from far across the laboratory.
Main features:
Air jacketed heating system for highly precise and constant temperatures
Very homogeneous temperature distribution by natural air convection
Stainless steel chamber which has high resistance to most of the chemicals
Adjustable outlet port for vapor exhaustion
Easy programming with one button, just turn and push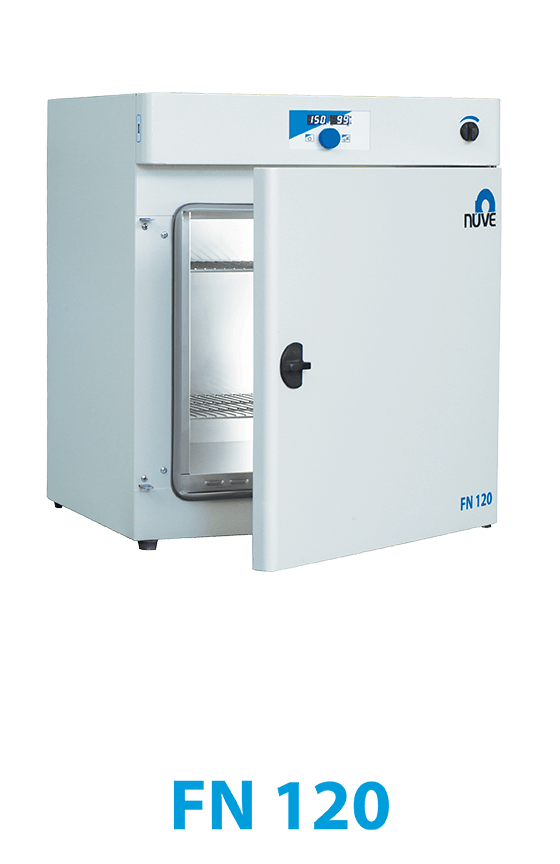 In sterilization mode, the user is warned if the instrument is out of the correct temperature range, perhaps due to power failure, for absolute sterilization. An independent safety thermostat takes over in the unlikely event of a failure of the main control system.
Triple insulation reduces energy consumption while ensuring homogeneous temperature throughout the chamber. An adjustable vapor exhaust port enables these models to be used for drying.
FN 055/120 can be equipped with N-Smart™ and NuveCom™ as an option and all the advantages of N-Smart™, such as recording temperature values up to ten years with one hour intervals as digitally and graphically, can be used.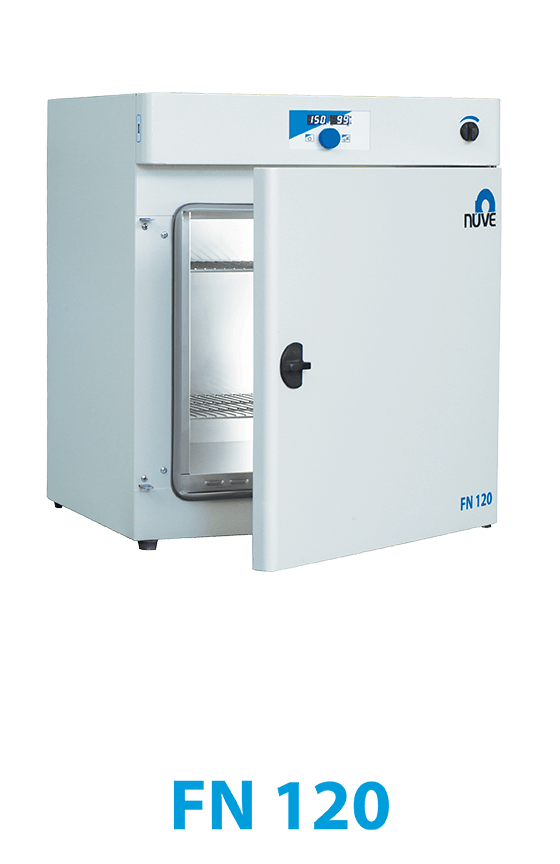 FN 055
FN 120
Temperature Range
Ambient Temp +70°C / 250°C
Temperature Sensor
Fe-Const
Control System
Programmable Microprocessor  N-Prime™ System
Temperature Set and Display Sensitivity
1°C
Temperature Variation @150°C
±2°C
Temperature Fluctuation
±1°C
Programmable Alarm Limits
±2°C / 10°C
Timer
1 minute – 99,9 hours + Hold Position
Delayed Start Timer
1 minute – 99,9 hours
Selectable Recording Frequency on Memory Stick
10 or 30 seconds; 1 – 5 – 30 or 60 minutes
Useful Volume, liters
55
120
Number of Shelves (Standard/ Max)
2/7
2/10
Internal Material
Stainless Steel
External Material
Electrostatic Powder Coated Steel Sheet
Power Consumption
1400 W
1600 W
Power Supply
230 V – 50/60 Hz
Internal Dimensions (WxDxH) mm
410x370x360
500x480x500
External Dimensions (WxDxH) mm
645x565x710
730x670x850
Packing Dimensions (WxDxH) mm
740x640x900
830x760x1050
Net/Packed Weight Kg
45 / 52
62 / 72