NUVE FR 290/490/590 -41°C Deep Freezers
A unique design compared to any other deep freezer in the -40°C class, the DF series are produced according to the standards of a -86°C ultralow temperature freezer. Moreover, the NÜVE design is exceptional with the cooling coils inside the shelves to provide the most efficient heat extraction. DirectFREEZE™ ensures the greatest possible protection for your samples.
Main features:
FR Series: -41°C
Three different sizes: 261, 461, 560 liters
Powerful and reliable N-Smart™ microprocessor control system
Maximum information with highly visible 4,3''colourful LCD display
Ethernet port for remote access through internet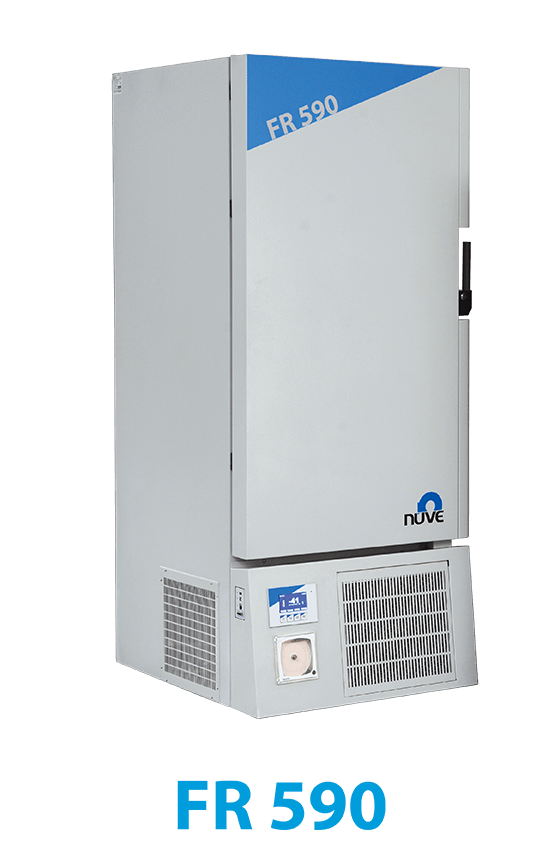 Optimized for cryotube storage, the storage accessories for the FR series also include shallow, medium and deep drawers for samples such as plasma bags and other, irregularly-shaped packs. A custom manufacturing service ensures that you can always retrieve your samples in a convenient way. The special design of the handle means that you can always access the chamber, even immediately after closing.
The FR series Deep Freezers are powered by N-SmArt™ which has internal memory storing temperatures records up to ten years with one hour intervals as digitally and graphically. By means of NuveCloser™ software, The FR series Deep Freezers can be controlled via internet. Sample safety is given top priority with audible, visual, open door and optional NuveWarn™ remote alarm system, plus an optional AlerText™ text message to multiple mobile phones. Sending e-mail up to five e-mail addresses in case of any failure is offered as standard Alarms are independently powered by a permanently recharged battery. The units can be placed in corridors as the door, power switch and optional chart recorder are all key lock protected.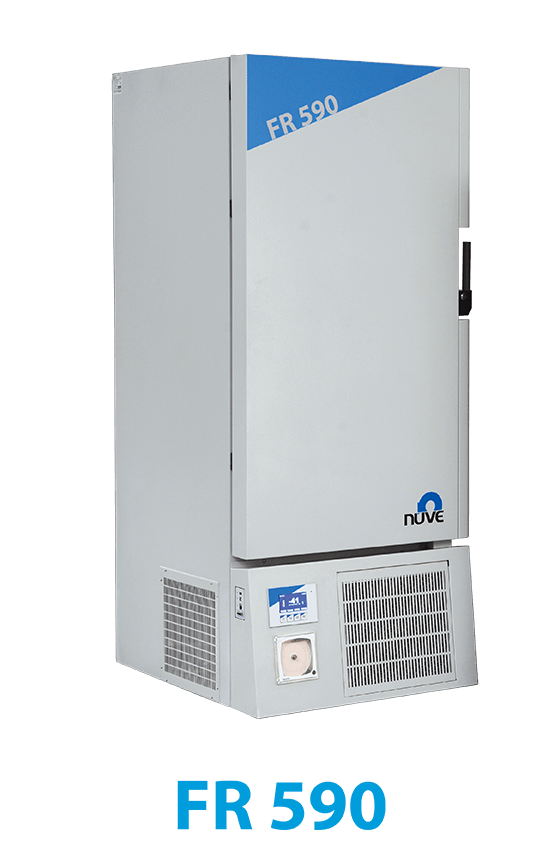 FR 290
FR 490
FR 590
Capacity (lt)
261
461
560
Minimum Temperature
-41 °C*
Control System
Programmable Microprocessor N-Smart™
Data Memory
10 years
Safety System
Lockable ON-OFF Switch
Temperature Display
4,3" Colourful TFT LCD display (Unaffected by power failure)
Temperature Set Range
-20/-45°C
Temperature Limit
-25 /-41°C
Temperature Reading and Setting Sensitivity
1°C
Temperature Sensor
PT -100
Cooling System
DirectFREEZE™ direct cooling
Temperature Alarm Range
Set Point +5°C/+10°C
Power Failure Alarm
Audible and visual
Door Open Alarm
Audible and visual
Alarm Feeding System
12 hour battery with automatic charging
Independent Cell / Inner insulation door (pcs)
3/3
4/4
4/4
Noise Level
<65 dB
Isolation ( CFC free)
High density injected polyurethane (130 mm)
Gasket Structure
Heated sealing surface
Refrigerant gas
R404a
Circular temperature recorder
Optional
Central Alarm Output
Standard
Remote Alarm Output
Standard
Internal Surface Material
Stainless Steel
External Surface Material
Electrostatic powder coated stainless steel sheet
Wheel System
4 wheel, 2 fixation foot
Power Supply
900
Power Ratings
230 V – 50 Hz
Internal Dimensions ( W x D x H)
420 x 630 x 995
555 x 630 x 1320
555 x 770 x 1320
External Dimensions (W x D x H)
680 x 975 x 1715
820 x 975 x 2035
820 x 1120 x 2035
*At 20 °C ambient