KD series ovens are the instruments of choice for routine heating and drying. With their large capacity, they are an excellent investment for the capacity. The stainless steel interior of KD 200 and KD 400 are resistant to many chemicals.
Main features:
Two different sizes: 193 and 375 liters
Temperature range: 70°C / 250°C
Very homogeneous temperature distribution by forced air ventilation
Extraction fan for faster drying
High grade insulation for efficient heating and temperature stability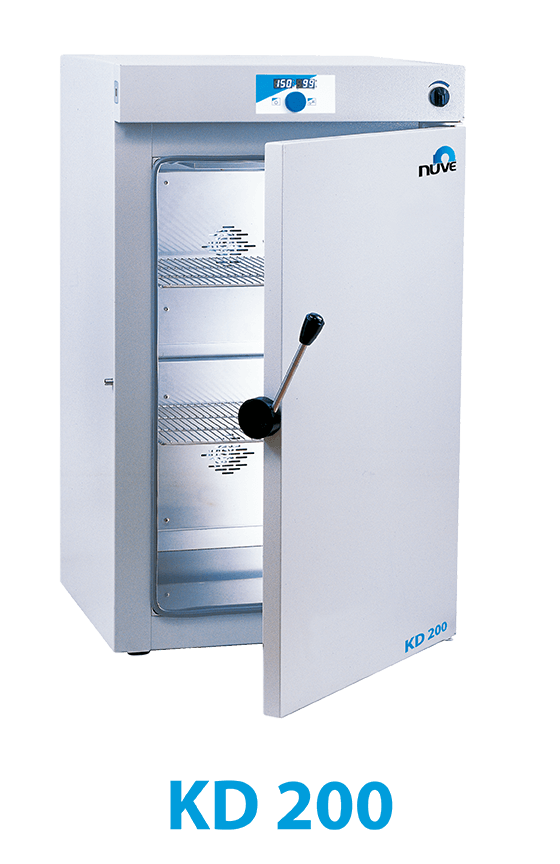 Proportional, integral, differential temperature control keeps the oven on target and N-Prime™ microprocessor-based system offers a variety of alarms. An independent safety thermostat ensures no overshoot in case of any failure.
Large, dual displays with large, bright characters, allow the actual temperature and time values to be seen from across the laboratory.
KD 200
KD 400
Temperature Range
70°C / 250°C
Temperature Sensor
Fe-Const
Control System
N-Prime™ Programmable Microprocessor
Temperature Set and Display Sensitivity
1°C
Temperature variation @150°C
±4°C
Temperature fluctuation
±2°C
Timer
1 minute – 99,9 hours + Hold Position
Delayed Start Timer
1 minute – 99,9 hours
Selectable Recording Frequency on Memory Stick
10 or 30 seconds; 1 – 5 – 30 or 60 minutes
Useful Volume, liters
193
380
Number of Shelves (Standard/Max)
2/7
2/12
Internal Material
Stainless Steel
External Material
Epoxy – Polyester Powder Coated Steel
Power Consumption
3100 W
4100 W
Power Supply
400 V / 3 phases+N+G – 50/60 Hz
Internal Dimension (WxDxH) mm
500x455x850
500x555x1350
External Dimension (WxDxH) mm
655x755x1140
655x860x1640
Packing Dimension (WxDxH) mm
730x760x1320
760x830x1850
Net/Packed Weight Kg
90/112
140/160