NUVE KN 72/120/294 Blood Bank Refrigerators
KN Series Blood Bank Refrigerators are specifically designed to optimize the storage of blood and blood components. Drawers are designed to hold the maximum number of bags in the smallest footprint, while maintaining them in a convenient position for label reading and minimizing heat-up during opening.
Main features:
Temperature range: 0°C / +10°C
Advanced technology to store blood and blood components
Powerful and reliable N-Smart™ microprocessor control system
Ethernet port for remote access through internet
Possibility of sending e-mails in case of any failure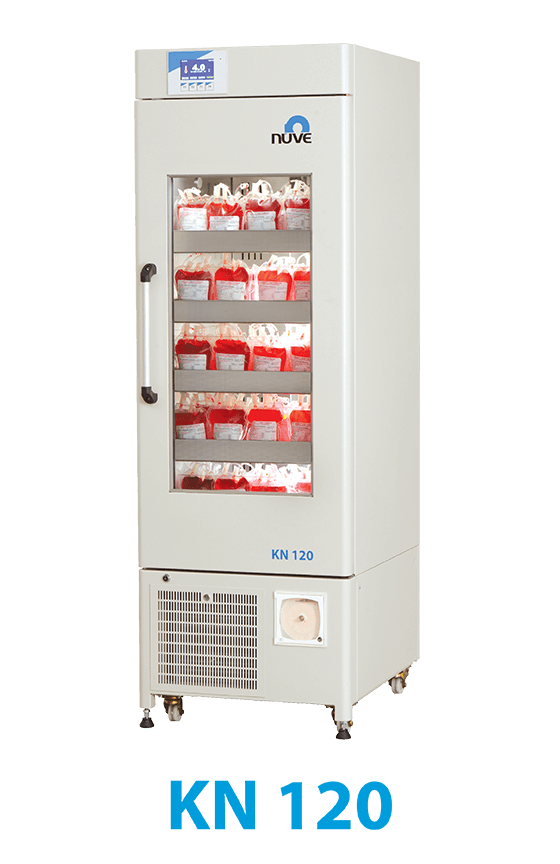 High technology is combined with practical advantages. Perfect for viewing the stock, the triple glass door window has anti-fogging inner glass for top visibility while the external glass prevents ingress of degrading UV light. Switchable inner lights assist with viewing of the contents.
KN Series Blood Bank Refrigerators are powered by N-Smart™ which has internal memory storing temperatures records up to ten years with one hour intervals as digitally and graphically. By means of NuveCloser™ software, KN Series Blood Bank Refrigerators can be controlled via internet. Sample safety is given top priority with audible, visual, open door and optional NuveWarn™ remote alarm system, plus an optional AlerText™ text message to multiple mobile phones. Sending e-mail up to five e-mail addresses in case of any failure is offered as standard Alarms are independently powered by a permanently recharged battery. The units can be placed in corridors as the door, power switch and optional chart recorder are all key lock protected.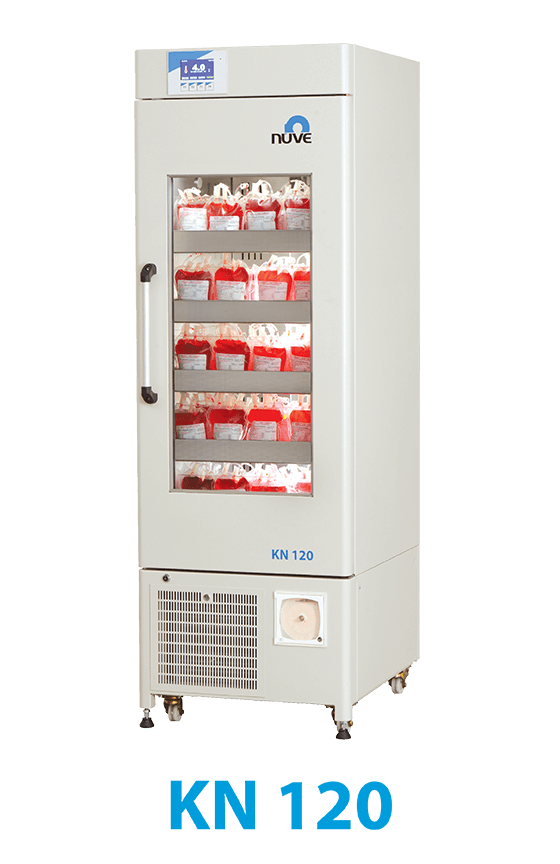 KN 72
KN 120
KN 294
Chamber Capacity (lt.)
200
306
630
Nominal Storage Capacity, Blood Bags*
72 pcs
120 pcs
294 pcs
Number Of Drawers
3
5
6
Drawers Capacity (pcs)
24
49
Control System
N-Smart™ Control System with programmable microprocessor
Internal Memory
10 years
Safety System
Lockable On-Off Key
Temperature Display
4,3" Colourful TFT LCD Display (Not affected by power cut)
Temperature Setting Range
0,0°C / 10°C
Temperature Reading and Setting Sensitivity
0,1°C
Temperature Sensor
1 PT -100
Temperature Distribution (@+4 °C)
+1°C
Temperature Control
Measurement of Blood Characteristics Liquid
Temperature Alarm
Setting Temperature + 2 ° C Audible and Visual
Power Failure Alarm
Audible and Visual
Door Alarm
Audible and Visual
Alarm Feed
12 Hour Battery Charged Automatically
Door Structure
Insulated, steel framed, threefold glass window and lockable
Drawer Structure
< 65 dB
Isolation (CFC free)
High Density Injected Polyurethane
Gasket Material
Magnetic Gasket
Refrigerant Gas (CFC free)
R 134a
Circular Temperature Recorder
Optional
Calibration Port
Sensor Input on Side Wall
Indoor Lighting (Fluorescent) (W)
15
18
30
Inner Surface Structure
Stainless Steel
External Surface Structure And Quality
Electrostatic Powder Coated Stainless Steel
Wheel System
4 Pieces Adjustable Foot
2 Lockable 4 Wheels, 2 Fixing Foot
Power Consumption (W)
330
700
Power Ratings
230 V – 50 Hz
Internal Measures (W x D x H)
480x545x770
480x545x1170
735x635x1350
External Measures (W x D x H)
610x805x1255
610x805x1855
917x895x1985