NUVE NB 5/9/20 Unstirred Water Baths
Apparently simple, NB series of unstirred water baths is nevertheless controlled by N-Prime™ microprocessor system giving excellent temperature precision, assisted by the triple insulation, for this class of instrument. A timer enables set protocols to be observed.
Main features:
Three different useful volumes: 4, 7 and 15 liters
Temperature range: Ambient temperature + 5°C / 99,9°C
Easy programming with one button, just turn and push
Seamless corrosion resistant stainless steel tank for a longer life
Angled front panel to protect the controller from accidental water spillage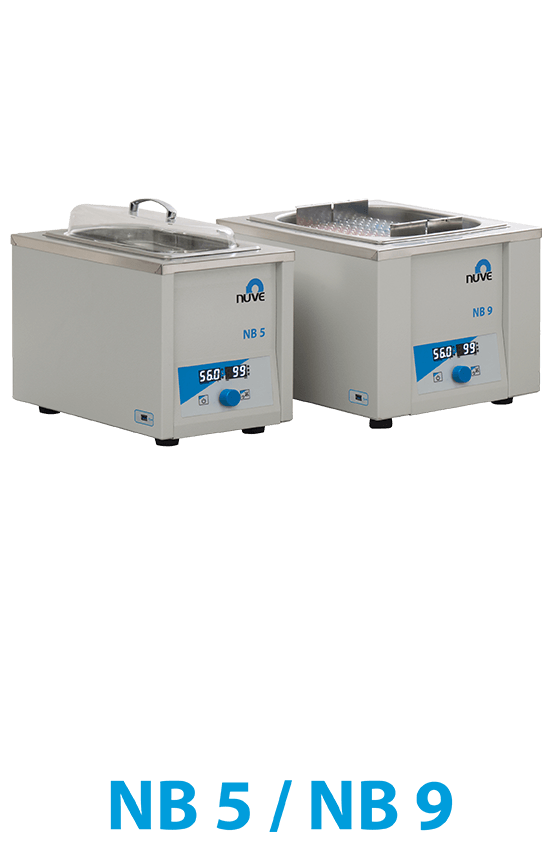 Most of the footprint of the water bath is usable to accept samples, since there is no pump, circulator or heater inside the chamber. A convenient drain permits fast discharge of the water. Their large displays are easily visible from across the laboratory.
Designed for many general and special applications in microbiology, research and industrial laboratories.
NB 5
NB 9
NB 20
Tank Volume, liters
6
9,5
21
Useful Volume, liters
4
7
15
Temperature Range
Ambient Temp + 5°C / 99,9°C
Temperature Sensor
Fe-Const
Control System
N-Prime™ Control System With Programmable Microprocessor
Displays
LED Displays for Temperature and Time
Temperature Set and Display Sensitivity
0,1°C
Temperature variation @37°C
± 0,1°C*
Temperature fluctuation @37°C
± 0,01°C*
Programmable Alarm Limits
± 0,5°C / 5°C
Timer
1 minute – 99,9 hours + Hold Position
Delayed Start Timer
1 minute – 99,9 hours
Selectable Recording Frequency on Memory Stick
10 or 30 seconds; 1,5,30,60 minutes
Inner Surface Structure
Stainless Steel
External Surface Structure
Electrostatic Powder Coated Stainless Steel Sheet
Power Consumption
600 W
800 W
1600 W
Power Supply
230 V / 50 Hz
Internal Dimension (WxDxH) mm
150x300x150
240x300x150
505x300x150
External Dimension (WxDxH) mm
240x400x275
325x405x275
590x405x275
Packing Dimension (WxDxH) mm
460x300x480
450x390x480
650x450x480
Net/Packed Weight Kg
8 / 11
9 / 12
13 / 17
* When the lid is closed at 22 ° C ambient temperature