NUVE NC 100 Vertical Steam Sterilizer
NC 100 heavy duty steam sterilizer has advanced technology for the sterilization of textiles, wrapped or packed materials, glass and liquids. The instrument of choice for operating theatres, laboratories, dentistry, biology, veterinary and agricultural departments of universities, microbiology and quality control laboratories of industries such as food.
Main features:
Chamber volume: 100 liters
Sterilization temperature range: 105°C-136°C
Integrated steam generator for fast production of steam
Maintenance-free diaphragm-type powerful vacuum pump
Fractionated post-vacuum for efficient drying of the samples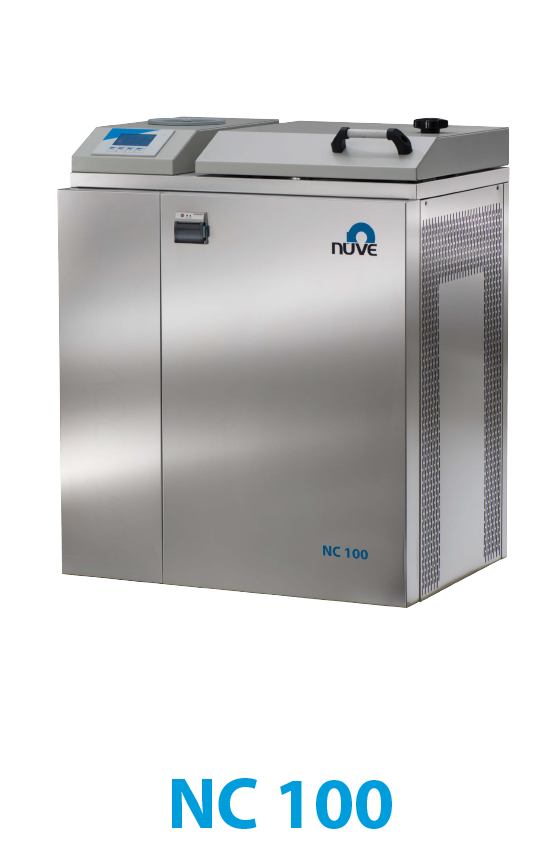 Operators are freed up by its automatic operation, its maintenance-free vacuum pump and its instant recall 5 pre-set or 10 user-defined programs. Product safety is guaranteed by the pre-sterilization vacuum control to eliminate bubbles and post-sterilization fractionated vacuum control for sample drying. Sterilization is effected according to the EN 285 standard for large sterilizers and the instrument conforms to the Medical Devices and Pressure Equipment Directives.
With its 4,3'' colorful display, N-Smart™ control system includes pre-set program for ease of use. NuveCom™ communication unit includes many advance functions for additional safety and traceability.
| | |
| --- | --- |
| Chamber Volume (liters) | 100 |
| Sterilization Temperature | 105°C – 136°C |
| Number of Preset Programs | 5 |
| Number of Free Programs | 10 |
| Special Programs | Liquid Sterilization and Drying |
| Test Programs | Vacuum leakage, Bowie & Dick |
| Minimum Vacuum Level | 200 mbar |
| Control System | N-Smart™ Control System |
| Display | 4,3" Colorful LCD Display |
| Internal Material |        Stainless steel |
| External Material | Stainless Steel and Electrostatic Powder Coated Stainless Steel |
| Standard Accessories | 3 sterilization baskets |
| Power Consumption | 7.500 W |
| Power Supply | 400 V – 50/60 Hz, 3 phases + N + G |
| Chamber Dimensions (WxDxH) mm | Ø 396×840 mm |
| External Dimensions (WxDxH) mm | 890x640x1115 mm |
| Packing Dimensions (WxDxH) mm | 970 x 755 x 1260 mm |
| Net/Packed Weight kg | 172 / 182 |