NUVE NC 150/150D Horizontal Steam Sterilizers
NC 150/150D steam sterilizer is ideal for the medium size sterilization centers for the sterilization of packed or unpacked surgical and dental instruments, operation linen, glass, plastic, rubber and silicon materials.
Main features:
Chamber volume: NC 150: 170 liters / NC 150D: 150 liters
Sterilization temperatures: 121°C,125°C,125°C, 134°C, 136°C
Integrated steam generator for fast production of steam
Maintenance-free diaphragm type powerful vacuum pump
Fractionated post-vacuum for efficient drying of the samples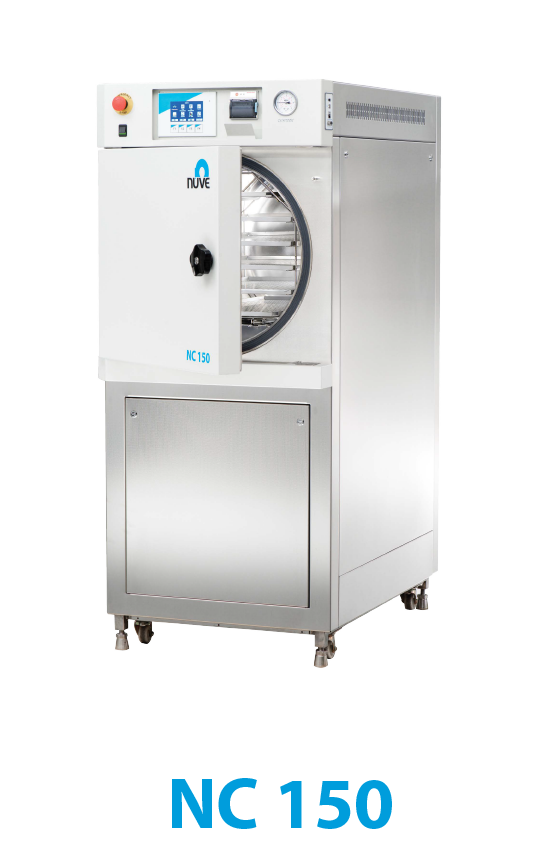 NC 150/150D is powered by N-Smart™ control system. 7 preset programs and 12 custom made programs make the sterilization easier for the users. The traceability is the important issue for the sterilization and N-Smart™ has internal memory up to 500 last cycles for that purpose.
NuveCom™ communication unit is offered as standard for the traceability, remote access and immediate warning. The optional NuveCloser™ software allows following the sterilization cycles and keeps the records on PC.
Sterilization is effected according to the EN 285 standard for large sterilizers and the instrument conforms to the Medical Devices and Pressure Equipment Directives.
Double door version NC 150D is ideal for the sterilization centers which has separated clean and dirty sides.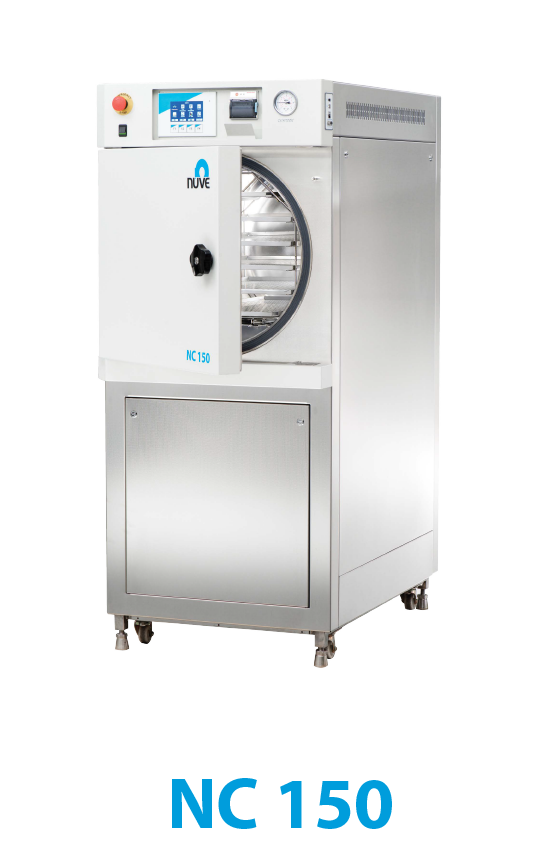 NC 150
NC 150D
Chamber Volume (liters)
170
150
Temperature Range
105-136°C
No of Preset Programs
7
No of Free Programs
10
Special Programs
Liquid sterilization and drying
Test Programs
Vacuum leakage, Bowie & Dick
Minimum Vacuum Level
200 mbar
Control System
N-Smart™ Control System
Display
4,3" Colorful LCD Display
Inner Surface Structure
Stainless steel
External Surface Structure
Stainless steel and epoxy polyester powder coated stainless steel
Standard Accessories

Shelf carrier and 6 shelves

(4 pcs. 420×740 mm, 1 pc. 275×740 mm, 1pc. 330×740 mm)

Power Consumption
11.500 W
Power Supply
400 V – 50/60 Hz, 3 phases + N + G
Chamber Dimensions (Dix H) mm
Ø 496 x 880
Ø 496 x 777
External Dimensions (WxDxH) mm
670 x 1010 x 1580
670 x 1030 x 1580
Packing Dimensions
880 x 1300 x 1780
Net/Packed Weight kg
300 / 390
342 / 402