NUVE NC 23B / 23S / 32S Benchtop Steam Sterilizers
NÜVE has enormous experience in the manufacturing of steam sterilizers. This current product range has been carefully designed to cover all applications in general medical practices, dentistry, facilities for personal hygiene, beauty care, veterinary practices and stand-by use in hospitals and clinics. Instruments conform to the requirements of the EN 13060 standard for B and S Class sterilization with additional technical advantages.
Main features:
Conforms to the requirements of EN 13060+A2 standard
2 free programs and 1 drying program
Powerful and reliable N-Smart™ microprocessor control system
Operating parameters can be tracked graphically against time
USB port to record the operated cycles in the memory to a memory stick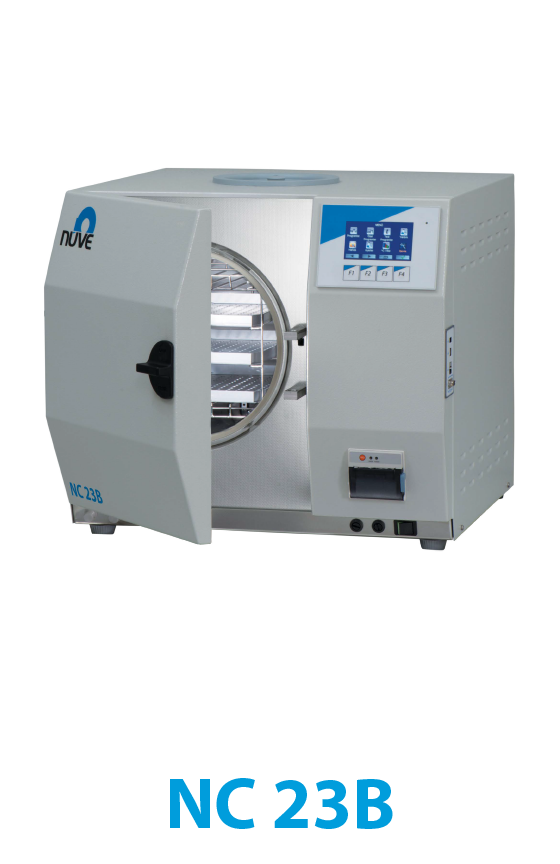 Elimination of air bubbles is important and steam should reach all surfaces, so B and S units have a fractionated vacuum operation with a vacuum pump designed especially for use with steam. S models, because of the types of loads that will be sterilized, do not need such a feature and use fractionated gravity with alternating inflow and outflow of steam.
Traceability is comprehensively covered with storage and visualization of all run data using N-Smart™ control system. A large range of safety features and self-diagnostics provide full user protection.
NC 23B
NC 23S
NC 32S
Chamber Volume (liters)
23
23
32
Sterilization Temperature
121°C and 134°C
Number of Preset Programs
5
Number of Free Programs
2
Test Programs
Vacuum leakage , Bowie & Dick/Helix
Vacuum leakage , Bowie & Dick
Minimum Vacuum Level
100 mbar
300 mbar
Control System
N-Smart™ Control System
Display
4,3" Colorful LCD Display
Chamber Material
Stainless Steel
Number Of Shelves (Standard/max) pcs
3/6
3/8
Capacity For Sterilization Cassettes, pcs
3
Power Supply
220 V – 50/60 Hz
Power Consumption
2.500 W
3.000 W
Chamber Dimensions (Diameter x Depth) mm
Ø 260×440
Ø 320×400
External Dimensions (WxDxH) mm
570 x 730 x 525
625 x 710 x 575
Packing Dimensions (WxDxH) mm
770 x 630 x 690
740 x 680 x 750
Net/Packed Weight kg
55 / 69
65 / 82