NUVE NC 300/430/570/710 Horizontal Steam Sterilizers
Rugged workhorses, these large, reliable units with side loading are an ideal design for the steam sterilization of packed or unpacked surgical and dental instruments, operation linen, glass, plastic, rubber and silicon materials.
Main features:
Pneumatically controlled door opening with safety system
Steam driven one-piece chamber gasket made of silicon
High capacity, low noise water ring vacuum pump for efficient vacuum
Pneumatic valves in the steam lines
Innovative AIR-COOLING system for low water and energy consumption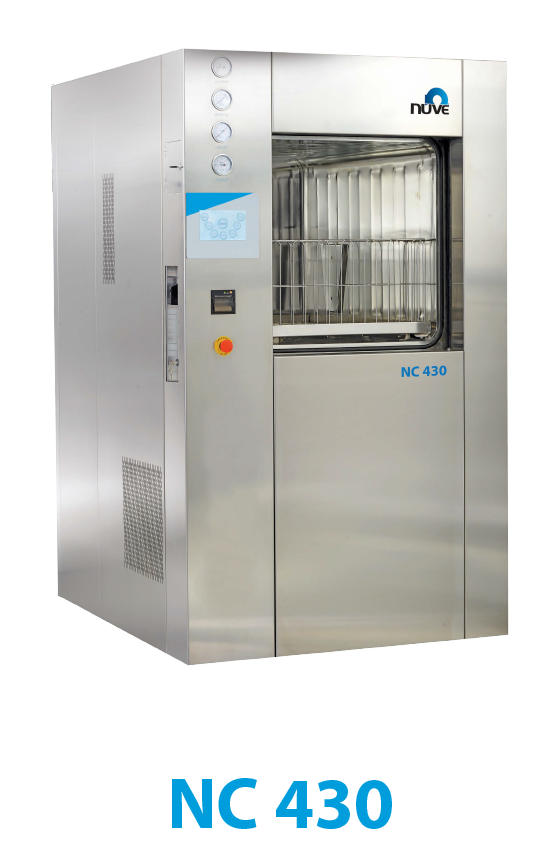 Reduced energy consumption is an important factor with an industrial grade instrument in constant use. The special vacuum pump and air-cooling system with no water requirements for cooling respond to this objective. The instruments exceed the requirements of multiple European Standards and Directives, as you would expect from NÜVE.
8 pre-set and 50 user-defined programs enable all applications to be started in an instant. Double door versions are practical for high throughput use. A large display (with second, smaller screen on double door units) shows all parameters and messages plus offers diagnostics for servicing. A built-in printer records the cycle and an optional data interface enables the operator to keep track of all conditions through NüveCloser™ software on PC.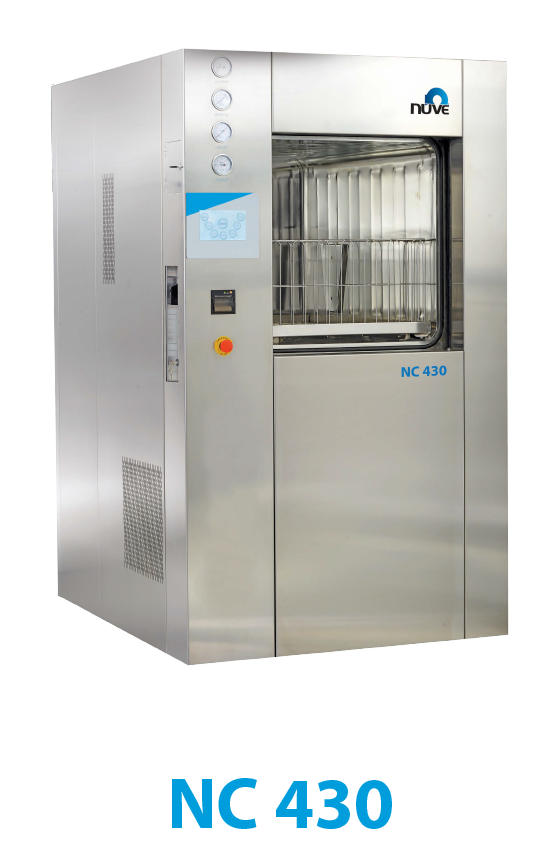 NC 300
NC 430
NC 430D*
NC 570
NC 570D*
NC 710
NC 710D*
Chamber Capacity Liters
300
430
570
710
Capacity for STu (1 STU 300x600x300 mm) (WxDxH)
4 pcs
6 pcs
8 pcs
10 pcs
Sterilization Temperatures
121°C – 125°C – 134°C – 136°C
No Of Preset Programs
7 + 1 Liquid Program + 1 Drying
No Of Free Programs
50
Test Programs
Vacuum Leakage ve Bowie&Dick
Minimum Vacuum Level
100 mbar
Control System
Steamart ™ Programmable Microprocessor Control System
Display
800×480 pixels 7" Colourful Touch Screen
Chamber Material
316 L Stainless Steel
Jacket Material
316 L Stainless Steel
Steam Generator Material
316 L Stainless Steel
External Material
316 L Stainless Steel
Standard Accessories
STU and STU carrier, 200 lt Water Tank
Power Supply
400 V 50/60 Hz, 3 phases+ N + G
Power Consumption
29 kW
38 kW
50 kW
62 kW
Chamber Dimensions (WxDxH) mm
635x722x655
635x1034x655
635x1064x655
635x1371x655
635x1401x655
635x1708x655
635x1738x655
External Dimensions (WxDxH) mm
1140x1290x1910
1140x1330x1910
1140x1410x1910
1140x1660x1910
1140x1740x1910
1140x2000x1910
1140x2080x1910
Packing Dimensions (WxDxH) mm
1560x1330x2200
1450x1400x2100
1450x1400x2100
1230x1820x2100
1230x1820x2100
2170x1300x2100
2170x1300x2100
Net / Packed Weight kg
860/990
980/1035
1140/1165
1120/1245
1280/1460
1260/1365
1420/1595