NUVE NF 200 Small Centrifuge
NF 200 is an ideal centrifuge for small clinics, physicians' practices and as a point-of-use instrument in larger laboratories. Blood samples, urine sedimentation and general sample preparation are catered for with the standard rotor and adaptors.
Main features:
Maximum capacity : 12×15 ml
Maximum speed : 5.000 rpm
Maximum RCF : 2.822xg
N-Prime™ programmable microprocessor control system for accurate and reliable operations
Possibility of programming RCF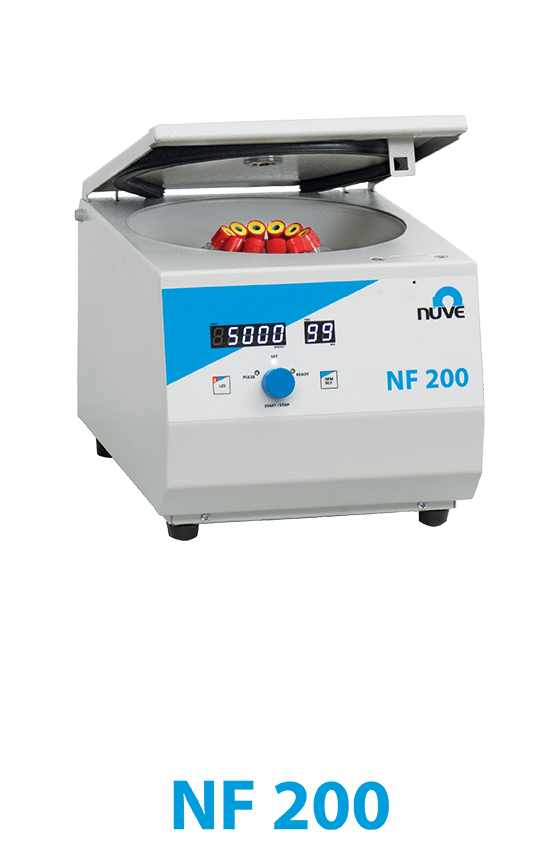 The clever airflow path keeps samples from increasing in temperature above required standards. Although compact, NF 200 is robust with its epoxy-polyester powder coated steel body.
Precise control via N-Prime™ microprocessor control system with a key board and large digital display makes NF 200 the instrument of choice when wanting to process a small number of samples.
| | |
| --- | --- |
| Maximum speed | 5.000 rpm |
| Maximum RCF | 2.822xg |
| Tube capacity | 12 x 15 ml |
| Control system | N-Prime™  Programmable Microprocessor Control System |
| Display | LED Displays for Speed/RCF and timer |
| Speed set range | 1.000-5000 rpm |
| Speed set step | 10 rpm |
| Timer set range | 1-99 minutes + hold position |
| Timer set step | 1 minute |
| Motor | Maintenance-free Induction Motor |
| Body, lid and chamber | Electrostatic powder coated steel |
| Power Supply | 230 V / 50 Hz |
| Power Consumption | 150 W |
| External Dimensions (WxDxH) mm | 285x375x260 |
| Packing Dimensions (WxDxH) mm | 350x420x480 |
| Net / Packed weight (kg) | 12 / 16 |