NUVE NF 400 / 400R Medium Capacity Centrifuges
NF 400/400R bench top centrifuges are designed for daily routine centrifugation requirements. The performance and capacity of NF 400/400R are ideal for the separation of blood samples, urine particle sedimentation and other routine applications in small and medium sized laboratories. Programmable N-Prime™ control system makes the operations easy.
Main features:
N-Prime™ programmable microprocessor control system for accurate and reliable operations
Easy programming with one button, just turn and push
Highly visible dual LED display for time and speed / RCF (xg)
Stainless steel chamber
5 acceleration / 5 braking rates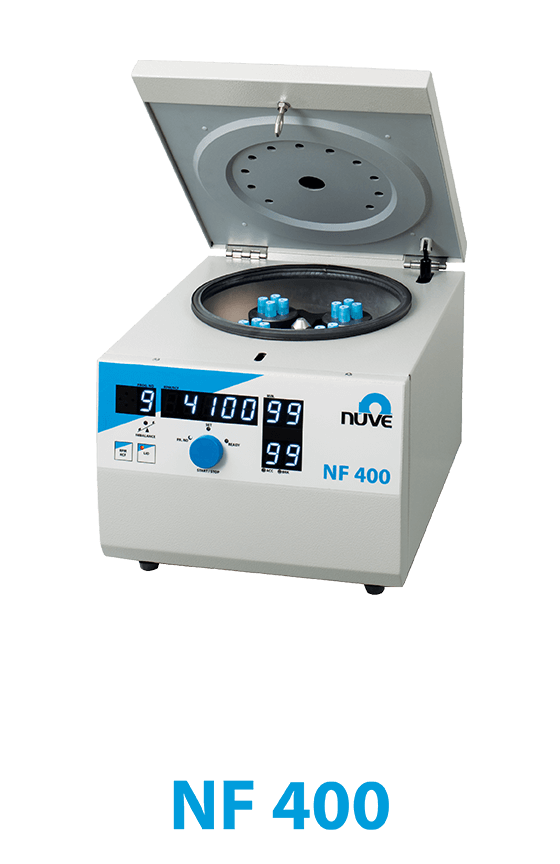 NF 400 is a ventilated model that ensures minimum temperature increase in samples by means of the continuous air flow system through the air channels in the lid.
Refrigerated model, NF 400R, offers a wide range of temperature control between -9°C and +40°C for heat sensitive samples. The powerful cooling system can maintain temperature at +4 °C even at maximum speed for biologically active samples.
Technical Specifications
NF 400
NF 400R
Maximum Speed
4.100 rpm
Maximum RCF
2.819xg
Tube Capacity
Swing-out Rotor: 4×100 ml Angle Rotor: 30×15 ml
Control System
N-Prime™ Programmable Microprocessor Control System
Speed Set Range
1.000-4.100 rpm
Speed Set Step
10 rpm
Timer Set Range
1-99 minutes and hold position
Timer Set Step
1 minute
Acceleration/Braking Rates
9/9
Temperature Range
–
-9°C / +40°C
Temperature Set Step
–
1°C
Motor
Maintenance-free Induction Motor
Body and lid
Electrostatic powder coated steel
Chamber
Stainless Steel
Power Ratings
230 V / 50 Hz
Power Supply
450 W
750 W
External Dimensions (WxDxH) mm
380x485x335
680x510x380
Packing Dimensions (WxDxH) mm
440x525x440
740x650x570
Net / Packed weight (kg)
26 / 32
59 / 77