NUVE NF 800 & 800R Multi-Purpose Centrifuges
The multi-purpose NF 800/800R bench top centrifuges respond to the requirements of laboratories carrying out a variety of applications. By combining a range of accessories and speeds in a single machine, they reduce the need for bench space and substantially reduce investment cost.
Main features:
Easy programming with one button, just turn and push
Four large LED displays for programmable parameters
1-99 minutes with hold position
Ten program memories
10 acceleration / 10 braking rates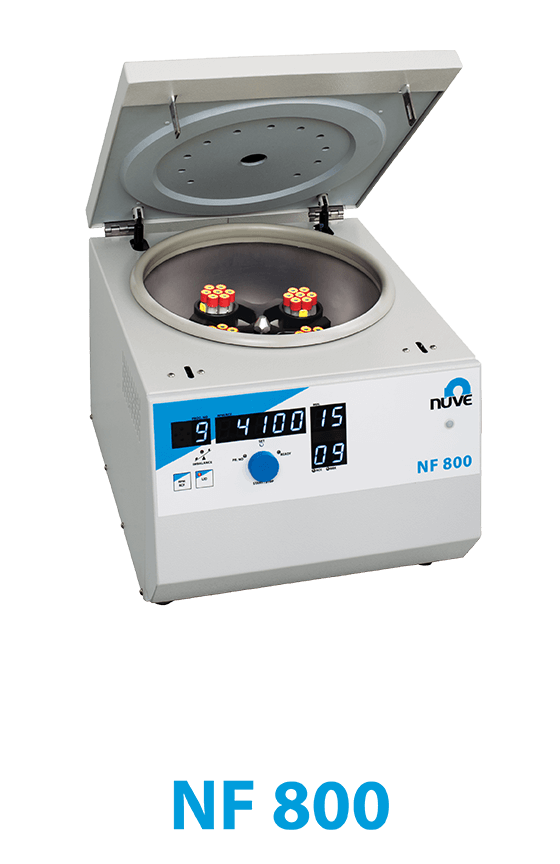 NF 800/800R are ventilated and refrigerated units offering up to 4×200 ml and over 3,000xg in swing-out rotor plus over 18,400xg for a microtube angle rotor. Maximum angle rotor volume is 6×50 ml; a 30x 5 ml rotor provides a high capacity, low cost answer to blood analysis.
They can spin 6 microtitre plates, have a choice of 10 acceleration and braking rates for optimum separation quality and N-Prime™ microprocessor control system for precise operation with speed, RCF and temperature (R models). The ventilated units are designed to keep temperature rise to a minimum.
NF 800
NF 800R
Maximum Speed

Swing-out Rotor: 4.100 rpm

Angle Rotor: 14.000 rpm

Maximum RCF

Swing-out Rotor: 3.045xg

Angle Rotor: 18.405xg

Tube Capacity

Swing-out Rotor: 4×200 ml

Angle Rotor: 6×50 ml

Control System
N-Prime™ Programmable Microprocessor Control System
Speed Set Range
500-14.000 rpm
Speed Set Step
10 rpm
Speed Control Accuracy
± 20 rpm
Timer Set Range
1-99 minutes and hold position
Timer Set Step
1 minute
Acceleration/Braking Rates
10/10
Temperature Range
–
-9°C / +40°C
Temperature Set Step
–
1°C
Motor
Maintenance Free Induction Motor
Body and lid
Epoxy-polyester powder coated steel
Chamber
Stainless Steel
Power Supply
230 V / 50 Hz
Power Consumption
500 W
800 W
External Dimensions (WxDxH) mm.
455x545x400
770x545x405
Packing Dimensions (WxDxH) mm.
520x600x610
870x650x570
Net / Packed weight (kg)
44 / 48
75 / 86