NUVE PN 150 Platelet Incubator
Designed to accept PS 54 Platelet Agitator, PN 150 Platelet Incubator has been built to provide long service to blood banks. Their rugged construction in stainless steel is combined with high density polyurethane insulation for platelet protection. Efficient cooling and fast temperature recovery after door opening optimize this protection.
Main features:
Chamber Volume: 150 liters / includes 1 pc. PS 54 Platelet Agitator
Temperature range: +20°C / +35°C
Powerful and reliable N-Smart™ microprocessor control system
2 pcs. USB port for data storage and PC
Ethernet port for remote access through internet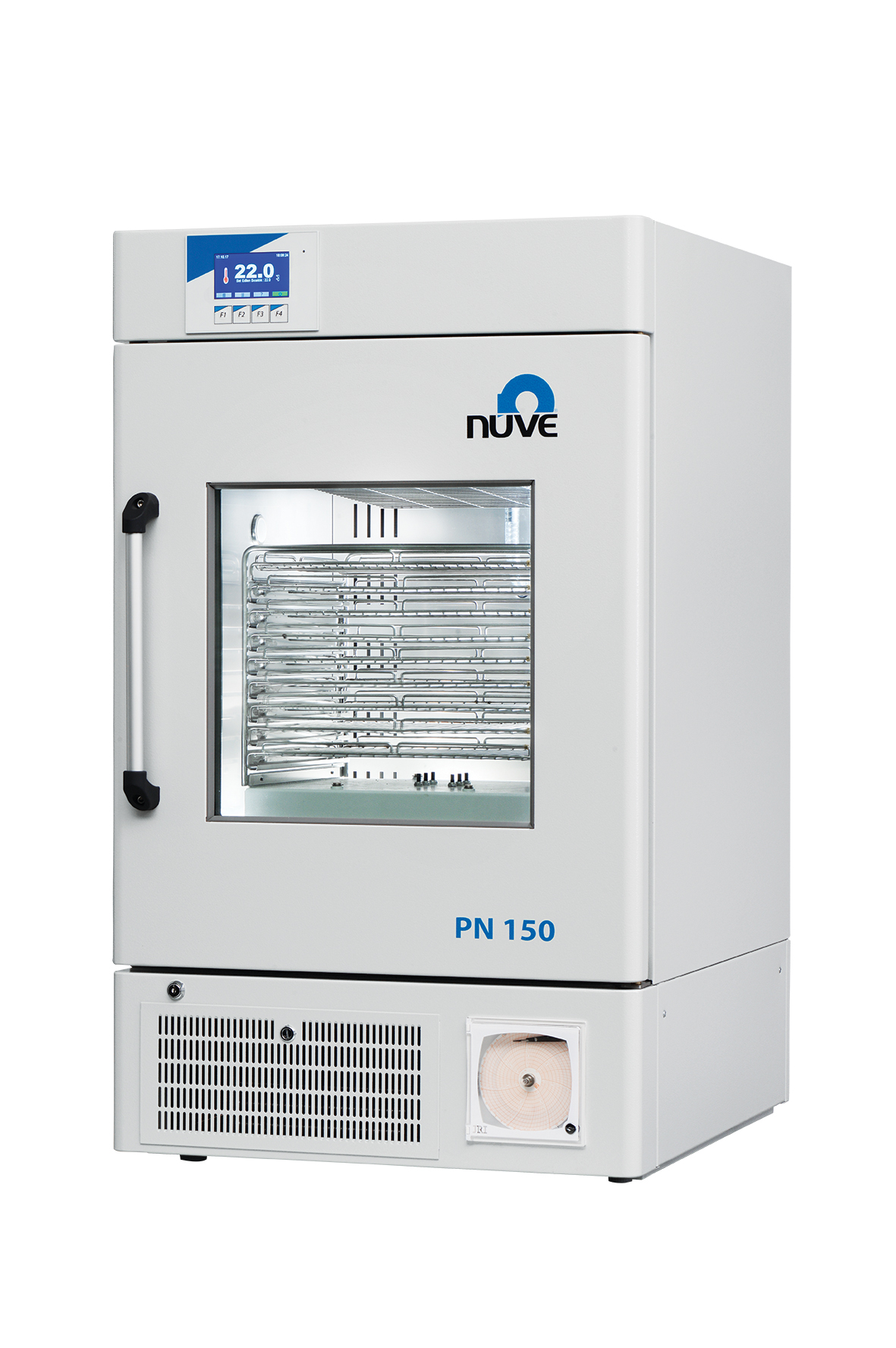 Observation of the platelet bags is enhanced by a triple glass window with anti-fogging inner glass, while the outer panel prevents degradation of the platelets by UV rays. Lockable door and password protected control system ensure that only authorized personnel can add or remove bags and change settings.
PN 150 Platelet Incubator is powered by N-Smart™ which has internal memory storing temperatures records up to ten years with one hour intervals as digitally and graphically. By means of NuveCloser™ software, the PN series Platelet Incubators can be controlled via internet. Sample safety is given top priority with audible, visual, open door and optional NuveWarn™ remote alarm system, plus an optional AlerText™ text message to multiple mobile phones. Sending e-mail up to five e-mail addresses in case of any failure is offered as standard Alarms are independently powered by a permanently recharged battery.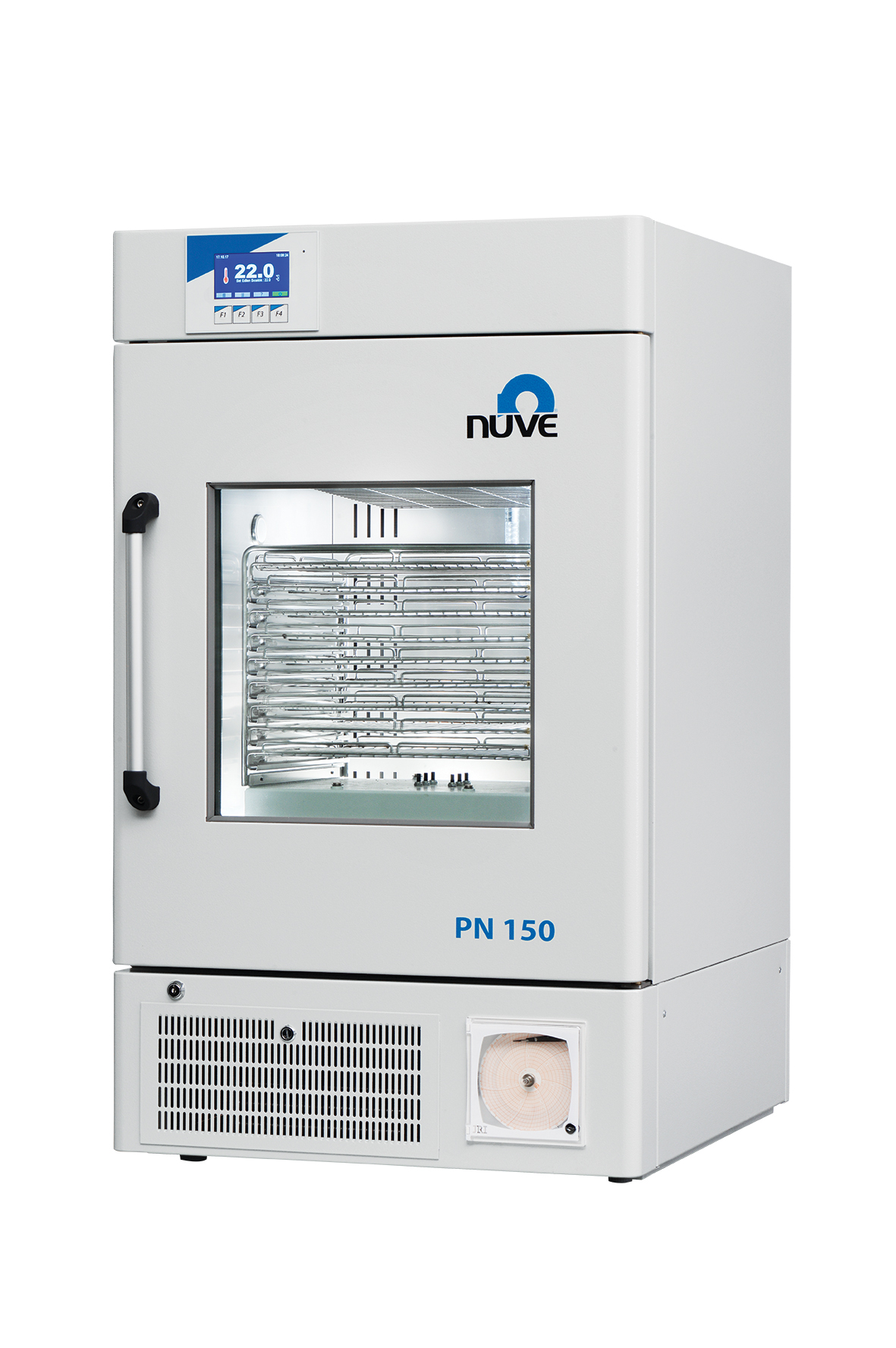 | | |
| --- | --- |
| | PN 150 |
| Temperature Range | 20°C to 35°C |
| Display | 4,3" Colorful LCD Display |
| Control System | N-Smart™ Control System |
| Temperature Set and Display Sensitivity | 0.1°C |
| Temperature Uniformity @ 22°C | ±1°C |
| Temperature Alarm | Set temperature ±2°C – Audible and Visual |
| Power Failure Alarm | Audible and visual |
| Door Alarm | Audible and visual |
| Remote and Central Alarm Contact | For all alarm conditions |
| Alarm Back-up | Automatic re-chargeable battery for 12-hour |
| Door | Insulated stainless steel frame with triple glass window and key lock |
| Insulation | High density injected polyurethane |
| Internal Material | Stainless steel |
| External Material | Epoxy-polyester powder coated stainless steel |
| Chamber Volume, Liters | 150 |
| Platelet Bag Capacity | 54 bags with 1 x PS 54 |
| Power Consumption | 500 W |
| Power Supply | 230 V – 50 Hz |
| Internal Dimensions (WxDxH) mm | 535x545x500 |
| External Dimensions (WxDxH) mm | 785x805x1130 |
| Packing Dimensions (WxDxH) mm | 860 x 700 x 1300 |
| Net/Packed Weight ,kg | 115 / 128 |