Priorclave 40L, 40L (vacuum)
These are the smallest in the Priorclave range of autoclaves and the ideal choice for laboratories seeking a bench-top steam steriliser that is extremely easy to install and simple to operate. They will appeal to laboratories with low volume requirements whilst allowing them to enjoy a level of settings and operating flexibility usually reserved for larger models.
Main features:
Multi-Program Memory
Process Printer
Media Warming keeps sterilised media 'ready to pour'
Vacuum Assisted Cooling
Low water level sensor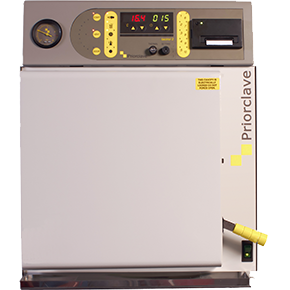 The Priorclave C40 range of compact, front loading autoclaves are designed specifically for benchtop steam sterilising applications, a small footprint enabling even the smallest laboratory to own a highly efficient, feature-packed Priorclave.
Out of the box the Priorclave C40 autoclave is ready to use, requiring only plugging into a 240V, single-phase supply. Models in this versatile C40 range can be supplied for either manual or auto-water fill as well as a choice of standard or highly efficient vacuum operation, adding further to its appeal for laboratories where space is limited, infrequent sterilisations take places or a more demanding medium requires faster processing