Priorclave front loading 230L, 285L, 350L, 450L, 700L
Developed for high throughput applications or to handle extra bulky items, models in this range of mid-capacity, front loading autoclaves feature large rectangular chambers. In spite of the chamber sizes, these autoclaves require a relatively small floor area which enables some of the smallest laboratories to acquire a high capacity steam autoclave.
Main features:
Low water level sensor
Pulsed freesteaming to maximise efficiency of Pre-cycle vacuum phase
Water cooling jackets
Automatic timed free-steaming
Two full width non-tipping stainless steel load shelves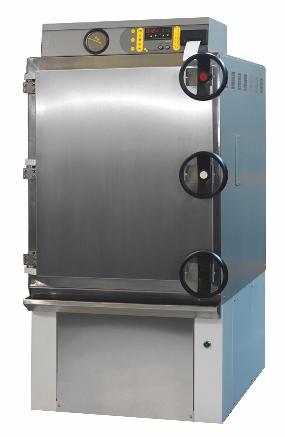 The RSC range of autoclaves has been developed specifically for laboratories needing to undertake high-throughput sterilising procedures or handle extra bulky items. Priorclave has built a range featuring large rectangular chambers, despite this high loading capability these castor mounted autoclaves require a relatively small floor area and will pass through a standard door – installation features that add to an already highly specified performance steriliser range.
This RSC range of front-loading Priorclaves available in three standard capacities – 230, 285 and 350 litres – is available as either electrically or direct steam heated and features the Priorclave patented two handwheel door closure for easy safe opening/closure of the rigid robust hinged door.