The Sigma 3-18 product series is the perfect choice for all users who set stringent demands on refrigerated benchtop centrifuges and prefer a wide variety of operating options.
Both the refrigerated version Sigma 3-18KS and the refrigerable and heatable version Sigma 3-18KHS enable RCF exceeding 30,000 x g and are very convenient to use thanks to the patented one-knob controller. Combined with the extensive portfolio of rotors and accessories, these universal centrifuges set standards for versatility and performance.
Main features:
Easily cleaned stainless steel drum
Automatic imbalance monitoring
High-performance cooling
Extra large TFT display
Temperature setting range: -20°C to +40°C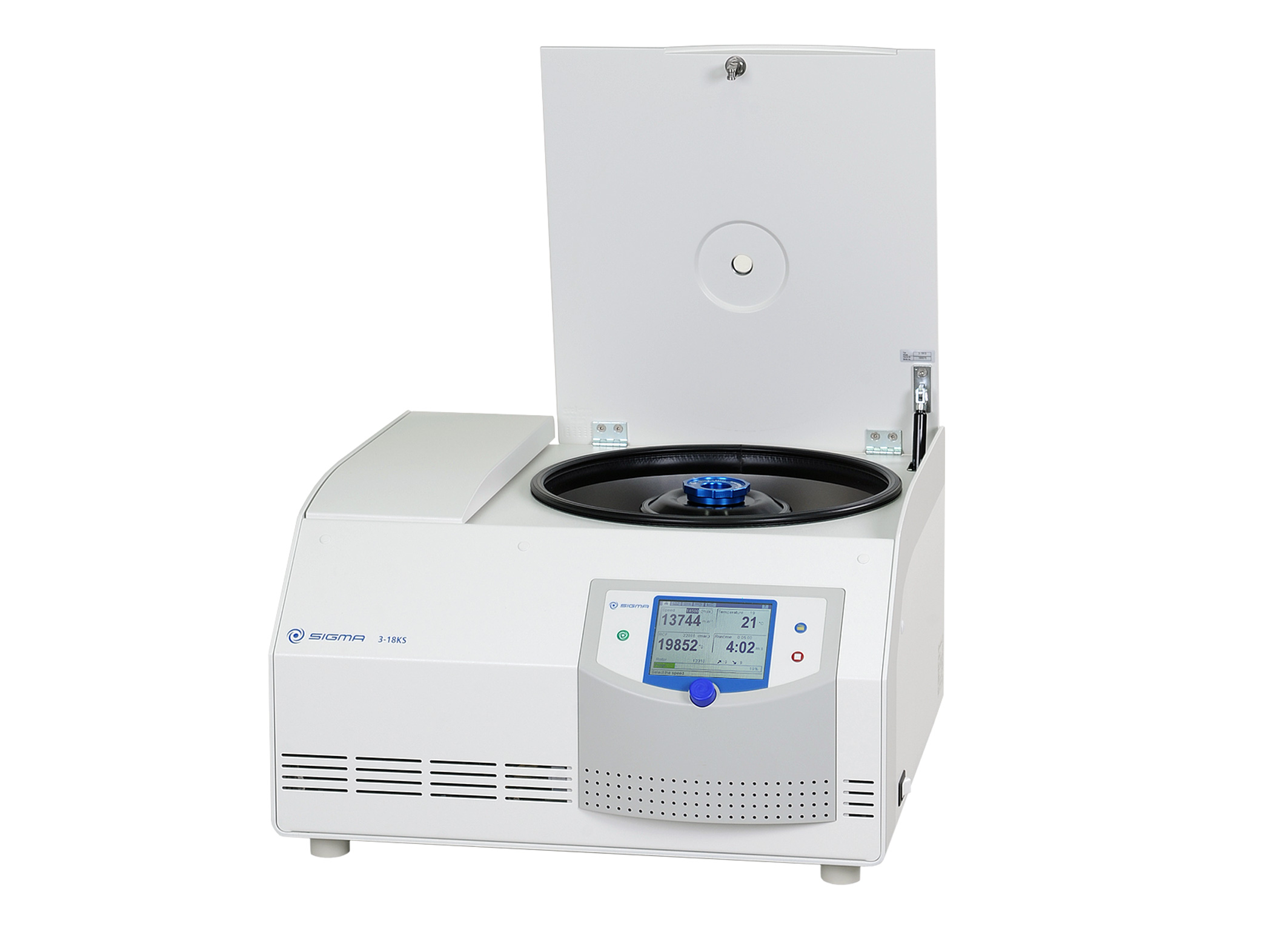 The Sigma 3-18KS and Sigma 3-18KHS centrifuges are designed for research tasks and routine procedures in laboratory operations. They are often used in hospitals, universities, industrial laboratories, and in the biotechnology and pharmaceutical sectors.
The refrigerated or actively heatable version Sigma 3-18KHS is popular amongst users for sedimentation of liquid media at relatively high temperatures, among other applications. Overall the Sigma 3-18KS and Sigma 3-18KHS offer many options that allow work processes in laboratory operations to be made more efficient, safer and more convenient. Thanks to their unique versatility and a broad range of fixed-angle and swing-out rotors, they also appeal to demanding users. With RCF above 30,000 x g for fixed-angle rotors and very short acceleration and braking times, they offer a perfect combination of performance and productivity.
| | | |
| --- | --- | --- |
| | 3-18KS |   3-18KHS |
| Dimensions |   355 x 630 x 600 mm |    355 x 630 x 600 mm |
| Weight: | approx. 78kg | approx. 78kg |
| Max Capacity | 4 x 400 mL | 4 x 400 mL |
| Max RPM | 18,000 | 18,000 |
| Max RCF | 30,070 | 30,070 |
| Refrigerated | Yes | Yes |