The Sigma 4-16 centrifuge series features outstanding versatility, performance and capacity. With maximum RCF up to 5,526 x g with a swing-out rotor or 25,155 x g with a fixed-angle rotor, they are the most versatile three-liter centrifuges in the industry.
Main features:
Universal benchtop centrifuge
User-friendly Spincontrol S controller
Extra large TFT display
60 programs
Zero-maintenance induction motor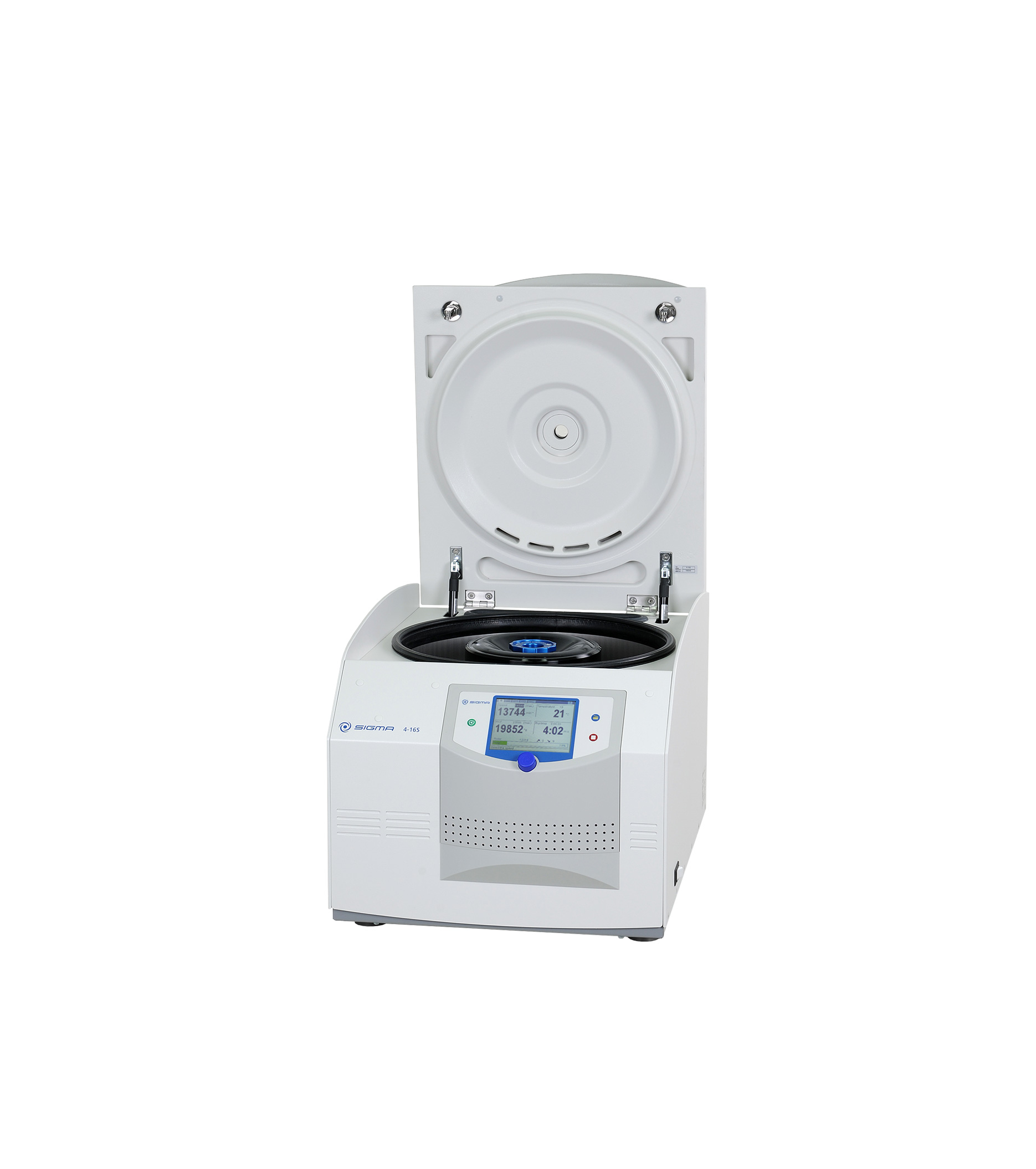 The Sigma 4-16 centrifuge series is designed for research tasks as well as routine procedures in laboratory operations. With their versatile rotor configurations, these models are suitable for research laboratories, hospitals, universities, cell culture applications, pharmaceutical laboratories, and applications in the biotechnology sector.
Along with excellent specifications, the series offers intuitive operation and advanced features. The patented one-knob Spincontrol S controller provides superior operating convenience, safety and versatility. Thanks to the intuitive user interface and the clearly organised menu structure, operating parameters can be entered and adjusted quickly. The acceleration and braking curves (30 each) facilitate optimisation of separation runs and results. Routine procedures can be stored with user-defined names and quickly retrieved from the integrated process library.
With automatic rotor identification, run time and speed monitoring, password-protected access to the controller and secure program storage, the centrifuges ensure uncompromising safety.
| | | | |
| --- | --- | --- | --- |
| | 4-16S |   4-16KS | 4-16KHS |
| Dimensions | 489 x 496 x 650 mm |    489 x 496 x 650 mm |    489 x 496 x 650 mm |
| Weight: | approx. 82kg | approx. 124kg | approx. 124kg |
| Max Capacity | 6 x 750 mL | 6 x 750 mL | 6 x 750 mL |
| Max RPM | 13,500 | 15,000 | 15,000 |
| Max RCF | 21,917 | 25,155 | 25,155 |
| Refrigerated | No | Yes | Yes (Heated) |