The high-performance Sigma 4-5L laboratory centrifuge is designed for throughput and capacity. The high torque enables especially short acceleration times and makes laboratory processes efficient. This centrifuge is recommended for applications in clinical diagnostics and for life sciences applications.
Main features:
High-performance benchtop centrifuge
Speed range up to 4,700 pm
Up to 144 blood collection tubes per run
Short braking and acceleration times
Zero-maintenance induction motor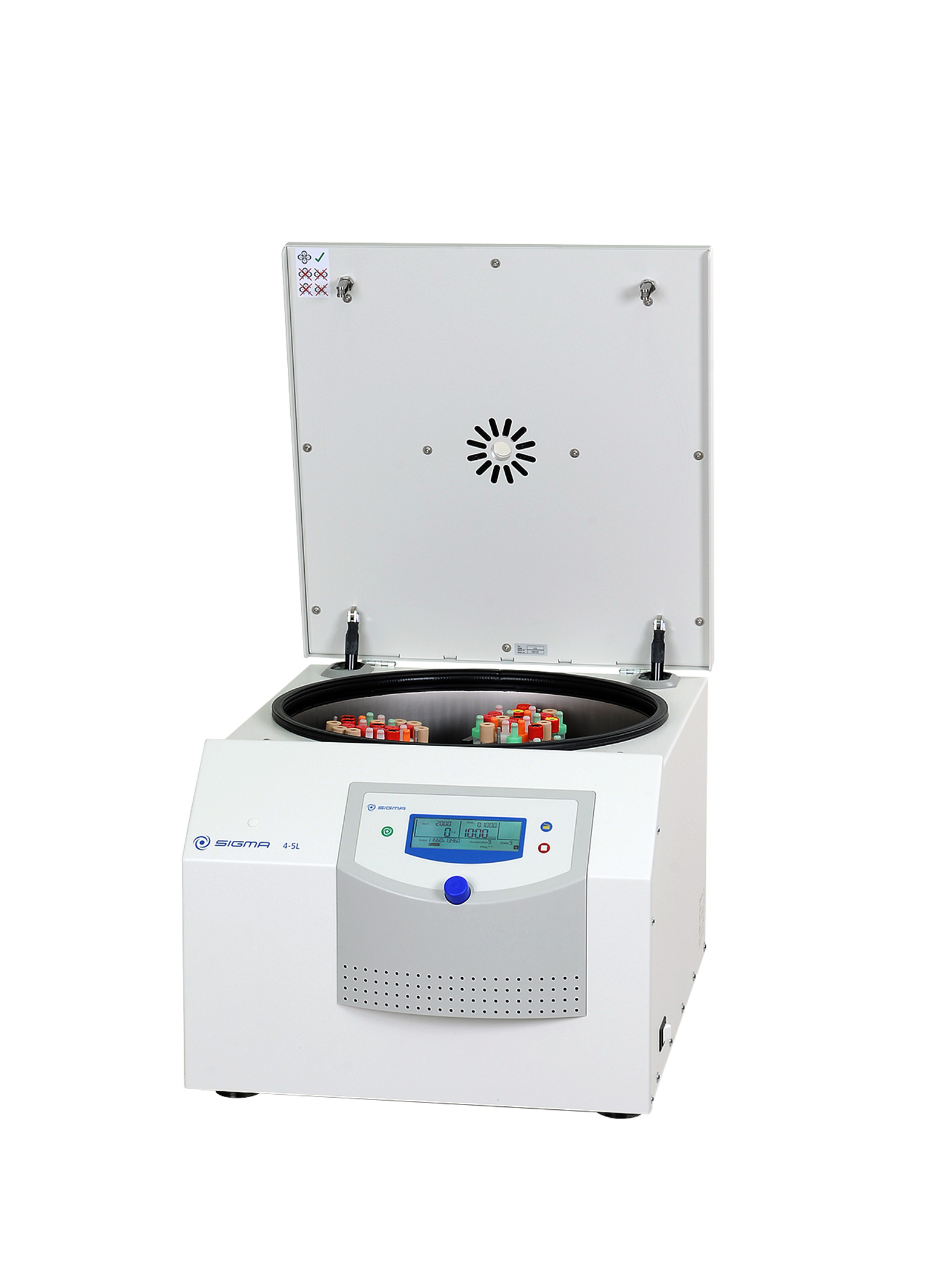 The maximum capacity for blood collection tubes per run for in vitro diagnostics (IVD) is outstanding. For instance, it can accommodate up to 144 blood collection tubes (13 mm diameter) or 100 blood collection tubes (16 mm diameter) from all known manufacturers. This means the Sigma 4-5L offers up to 25% more capacity that comparable units in its class. The high RCF of nearly 4,500 x g is also well suited to centrifugation of gel tubes, while at the same time helping to optimise turnaround times. Standard routines can be stored and recalled conveniently in up to 50 programs. Ten selectable acceleration and braking curves facilitate optimisation of separation processes and additionally shorten run times.
The Sigma 4-5L is very quiet in operation, resulting in a pleasant work environment in the laboratory. At the end of centrifugation, the two motorised lid locks are automatically unlocked and the lid is opened by gas springs to a maximum angle of about 85°. That way the end of the cycle can easily be recognised, even at a large distance.
| | |
| --- | --- |
| | 4-5L |
| Dimensions |  390 x 496 x 634 mm |
| Weight: | approx. 77kg |
| Max Capacity | 4 x 750 mL |
| Max RPM | 4,700 |
| Max RCF | 4,643 |
| Refrigerated | No |