NUVE NF 1200/1200R Multi-Purpose Centrifuges
The large multi-purpose NF 1200/1200R bench top centrifuges provide a comprehensive response to laboratories carrying out multiple applications. Their extensive range of accessories and versatile performance combined in one unit save valuable bench space and are the answer when budgets are tight but many protocols have to be carried out.
Main features:
Programmable parameters: Program no, speed / RCF, time, acceleration and breaking rates and temperature
Four large LED displays for programmable parameters
Electronic imbalance detection system
Powerful, quite, maintenance-free induction motor
Rotor overspeed protection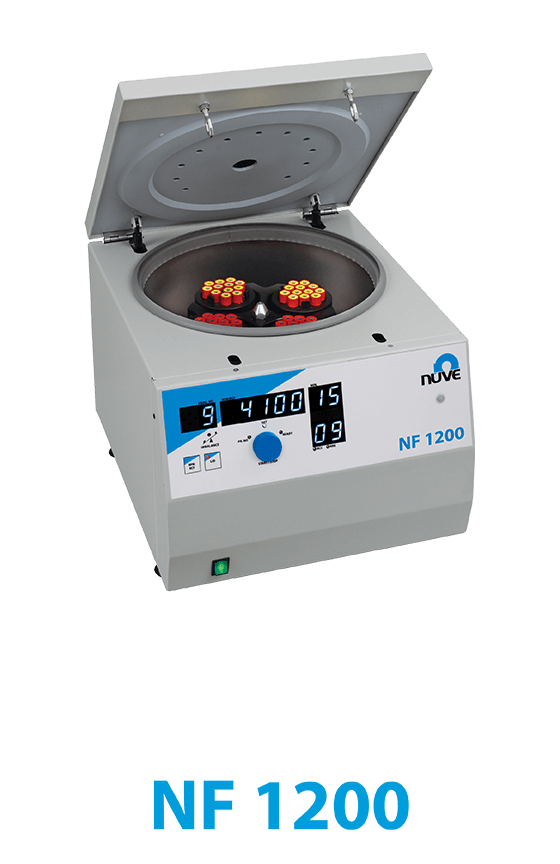 NF 1200/1200R accept 48-76 x 5 ml tubes in the swing-out rotor and 6×100 ml in angle rotor and offer slightly higher performance than NF 800/800R models. Their microtube capacity and performance are also enhanced as is the high speed tube range.
Microprocessor control for precise operation with speed, RCF and temperature (R model) includes a choice of 10 acceleration and braking rates for optimum separation quality. The ventilated units are designed to keep temperature rise to a minimum.
NF 1200
NF 1200R
Maximum Speed

Swing-out Rotor: 4.100 rpm

Angle Rotor: 14.000 rpm

Maximum RCF

Swing-out Rotor: 3.082xg

Angle Rotor: 20.170 xg

Tube Capacity

Swing-out Rotor: 4×280 ml

Angle Rotor: 6×100 ml

Control System
N-Prime™ programmable microprocessor control
Speed Set Range
500-14.000 rpm
Speed Set Step
10 rpm
Speed Control Accuracy
± 20 rpm
Timer Set Range
1-99 minutes and hold position
Timer Set Step
1 minute
Acceleration/Braking Rates
10/10
Temperature Range
–
-9°C / +40°C
Temperature Set Step
–
1°C
Motor
Maintenance Free Induction Motor
Body and lid
Electrostatic powder coated steel
Chamber
Stainless Steel
Power Supply
230 V / 50 Hz
Power Consumption
500 W
800 W
External Dimensions (WxDxH) mm.
455x545x400
770x545x405
Packing Dimensions (WxDxH) mm.
520x600x610
870x650x570
Net / Packed weight (kg)
46 / 51
77 / 90