A key component of ISO 15189 certification is the need for laboratory centrifuges to be UKAS accredited. In this month's blog, we take a closer look at UKAS centrifuge calibration and what it really means for the user.
What is UKAS centrifuge calibration?
General centrifuge calibration was examined back in December's blog. However, many laboratory users question what UKAS centrifuge calibration is exactly and how it differs from a standard centrifuge calibration?
The main difference is that the calibration procedure has actually been assessed by UKAS. UKAS stands for the United Kingdom Accreditation Service and is the only accreditation body recognised by the British government to assess the competence of organisations that provide calibration services.
In addition to the procedure being assessed, the engineer who is carrying out the calibration will have also been assessed by UKAS. Furthermore, the company who is employing that engineer would have also been assessed separately. Assessment is done in the form of an annual audit and is usually carried out over several days, both at the company's head quarters and out in the field, where engineers will be working.
Equipment that is used by the engineers is assessed and checked by UKAS. All this assessing and checking of different aspects of the whole process means that user can be confident that the results garnered from the UKAS calibration are meaningful.
One thing we must make clear is that when a company conducts a UKAS calibration, they are not saying whether the device being calibrated has passed or failed. They are reporting the results found and the certificate issued contains meaningful information about the test performed and the level of uncertainties associated with it. It is then up to the laboratory manager to decide what to do. If remedial action is taken, then another UKAS calibration must be carried out as the centrifuge has fundamentally changed and this could affect results.
What aspects of the centrifuge can be calibrated?
When performing a UKAS calibration on a centrifuge, we can check three vital parameters: temperature, speed and time. Temperature is by far the most time-consuming parameter to calibrate because the engineer must wait for the figures to stabilise. This is not just the case with a centrifuge, but any product which either heats or cools a sample such as a refrigerator, freezer or oven.
The graph below illustrates how an engineer must wait until the temperature has stabilised in order to obtain meaningful results: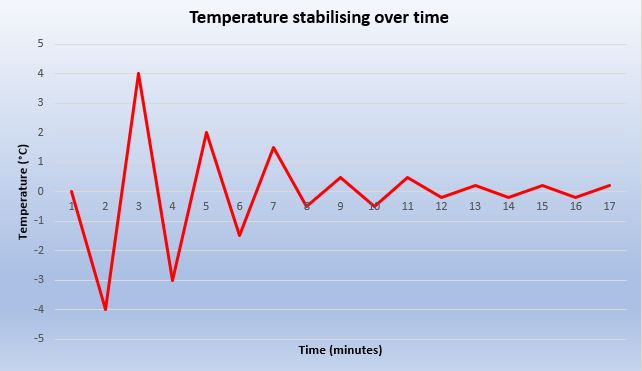 Why is UKAS calibration important?
For many lab users, UKAS is an important component of ISO 15189 accreditation. This is why more and more laboratories are requesting UKAS centrifuge calibration.
Section 5.3.1.4 of the ISO 15189 standard states:
"The laboratory shall have a documented procedure for the calibration of equipment that directly or indirectly affects examination results. This procedure shall include;
Conditions of use and the manufacturer's instructions, traceability of the calibration equipment, the required measurement accuracy, record of calibration status and re-calibration date."
How Henderson Biomedical can help
Henderson Biomedical is fully accredited to ISO 17025 and is to perform UKAS accreditation on centrifuges as well as other laboratory products such as incubators, ovens, refrigerators and liquid baths. A full list of the types of equipment we can calibrate to UKAS standard can be found on our UKAS schedule.
We are able to offer free and impartial advice on UKAS calibrations for centrifuges and other types of core laboratory products. For more information, please contact our team on 020 8663 4610.