NUVE BS 30 Stirred Refrigerated Water Bath
With its PID microprocessor system and pump, temperature precision is optimized, as well as assisting in fast temperature changes.
Main features:
17 liters useful volume
Temperature range 0°C / 80°C
Powerful and reliable N-Smart™ microprocessor control system
Maximum information with highly visible 4,3'' colourful LCD display
20 program memories with 20 steps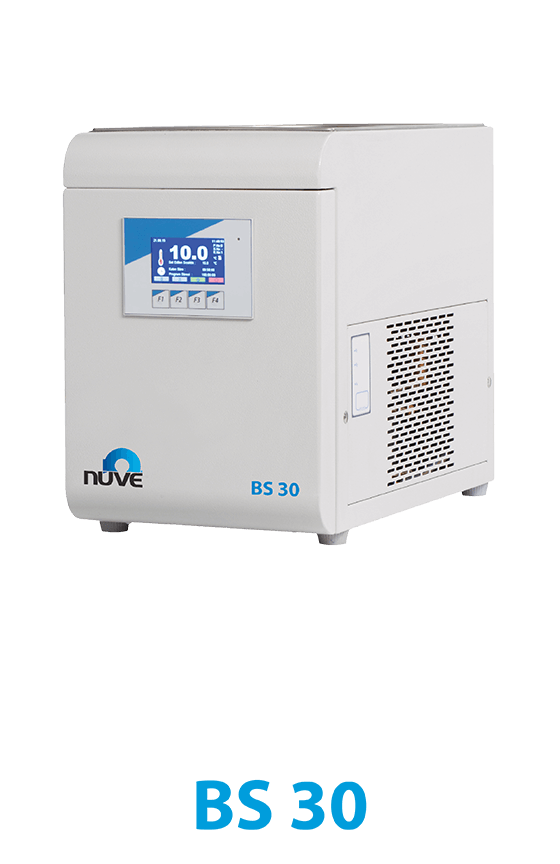 BS 30 Refrigerated Water Bath is powered by N-Smart™ control system. By means of the internal memory of N-Smart™, temperatures records with one hour intervals can be stored up to ten years as digitally and graphically. Optional NuveCom™ communication unit allows to BS 30 to use the advantages of optional AlerText™ GSM alarm module. Sending e-mail up to five e-mail addresses in case of any failure is offered as standard with NuveCom™. USB port on NuveCom™ allows to store the datas on memory stick with different time intervals.
Full traceability and remote access is available with optional NüveCloser™ system providing a guarantee that the samples have been subjected to the selected protocol.
An optional external circulation pump converts these water baths into thermostating systems, heating or cooling, for other equipment.
A variety of accessories optimize the capacity of different volumes of sample container such as Erlenmeyer flasks.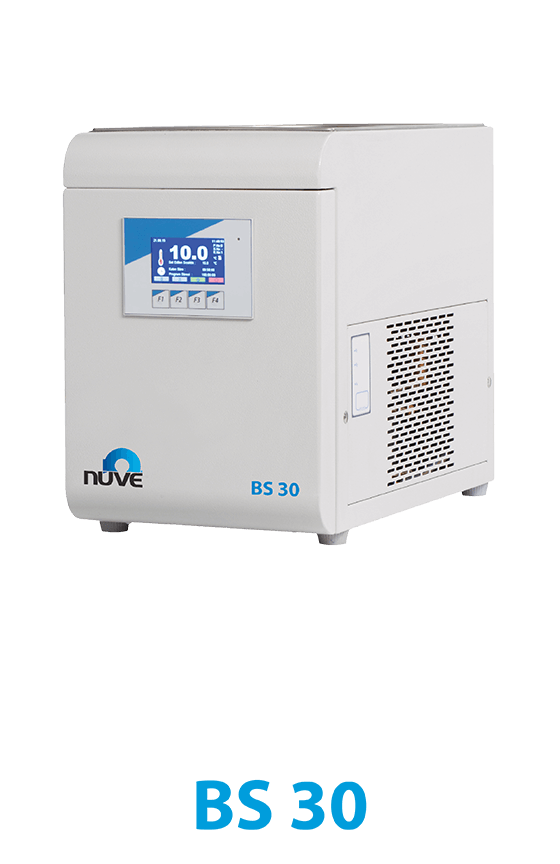 | | |
| --- | --- |
| Tank Volume | 30 liters |
| Useful Volume | 17 liters |
| Useful Water Height | 170 mm |
| Circulation Pump Capacity (lt/min) | 16 lt/ Min |
| Temperature Range | 0 ,0° C / 80 ° C |
| Temperature Sensor | Pt-100 |
| Control System | Programmable Microprocessor N-Smart™ Control System |
| Display | 4,3″ Colourful TFT LCD Display |
| Temperature Set and Display Sensitivity | 0.1°C |
| Temperature Variation @ 37°C | ± 0.1°C* |
| Temperature Fluctuation @ 37°C | ± 0.1°C* |
| Programmable Alarm Limits | 1°C / 10°C Audible and Visual |
| Number of Program Memory | 20 |
| Programmable Number of Steps | 20 |
| Number of Program Repetition | 1-99 |
| Timer | 1 min – 100 Hours  + Hold Position |
| Delayed Start Timer | 1 min – 100 Hours |
| Memory | Audible and visual |
| Isolation | High density injected polyurethane |
| Inner Surface Structure | Stainless steel |
| External Surface Structure | Electrostatic powder coated stainless steel sheet |
| Power Supply | 2000 W |
| Power Consumption | 230 V – 50 Hz |
| Internal Dimensions (WxDxH) mm | 300x505x195 |
| External Dimensions (WxDxH) mm | 340x630x500 |
| Package Dimensions (WxDxH) mm | 430x690x680 |
| Net / Package Weight (kg) | 37 / 43 |
*At 22 ° C ambient temperature when the lid is closed