MSE produced the popular Soniprep 150 ultrasonic disintegrator for over 30 years. The design was modified and updated several times during its lifetime but the inter-changeable probes always remained the same. For example, in the early 2000s, the right-angle Perspex® door was replaced with a flat one and in 2007, the analogue display was replaced a digital LED interface. It was at this time that MSE changed the name from Soniprep 150 to Soniprep 150 Plus.
Sadly, the MSE Soniprep 150 Plus has been discontinued and is no longer available from the manufacturer. However, this doesn't help the hundreds of users out there who will, at some point need to replace their old Soniprep 150 Plus ultrasonic disintegrator.
So what other options are there? Let's take a look…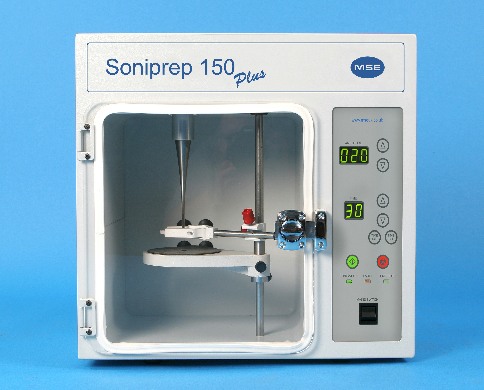 What is an ultrasonic disintegrator?
Before we look for a potential replacement to the Soniprep 150 Plus, it is important to understand what the product actually does, so that we can find a suitable alternative. Ultrasonic disintegrators, also known as homogenisers, are typically used to break down the cell walls of a sample for analysis. Alternatively, you could be looking to disrupt cells to release certain elements such as proteins or enzymes. Another use could be for cleaning samples or 'drilling' a cellular hole in a sample. In all cases, they are geared towards a low volume liquid sample size, typically between 0.2ml and 150ml.
Ultrasonic disintegrators are often used in niche cell research but its applications are very diverse.
The Branson SFX range. A suitable alternative to the MSE Soniprep 150 Plus?
Branson manufacture a very similar device to the MSE Soniprep 150 Plus. In fact, they produce three types of ultrasonic disintegrators: the Sonifier SFX150, Sonifier SFX250 and Sonifier SFX500. The three ultrasonic disintegrators are all very similar with regards to features but vary in terms of power output.
Just like the Soniprep 150 Plus, there are a series of different sized titanium probes which can be changed depending on the volume of the liquid sample.
Users can vary the time, energy and temperature on the instrument itself. Programs can be stored too.
Optional extras
Unlike the Soniprep 150 Plus, the Branson range of ultrasonic disintegrators do not come with a sound enclosure as standard. They also do not always come with a stand. In this was the Branson SFX range is slightly different to the MSE Soniprep 150 Plus. Of course the advantage of this is that the cost is reduced as you are not paying for a sound enclosure, even if you don't need it.
Branson can supply a range of optional extras which are very similar to those available for the Soniprep 150 Plus. This includes, but is not limited to, continuous flow vessels and different probes (also known as horns) depending on the sample size.
The Branson device has an integrated pulse function which is equivalent to MSE's Process Timer Unit. This was actually an optional extra for the Soniprep 150 Plus. In addition to this, the Branson ultrasonic disintegrator does not come with a stand and this is an optional extra, unlike the Soniprep 150 Plus, where the stand was integrated into the design of the instrument.
How Henderson Biomedical can help with replacing your MSE Soniprep 150 Plus
Henderson Biomedical is a UK distributor of Branson ultrasonic disintegrators. More information of the Branson sonicators can be found here. We are able to give you competitive prices on their products and accessories. For more information, please contact our team at sales@henderson-biomedical.co.uk or give us a call on 020 8663 4610.