LEEC CO2 Incubators Touch T50 - T50S
LEEC mini Culture Safe Touch CO2 incubators are the perfect solution for laboratory users who want a high quality, fully featured premium bench top mini CO2 incubator, in a small package.
Main features:
World's first 200°C sterilisation (T50S)
50 Litre Capacity
Touch screen controller
Deep drawn, seamless electro-polished chamber
Full data logging (text & graphical)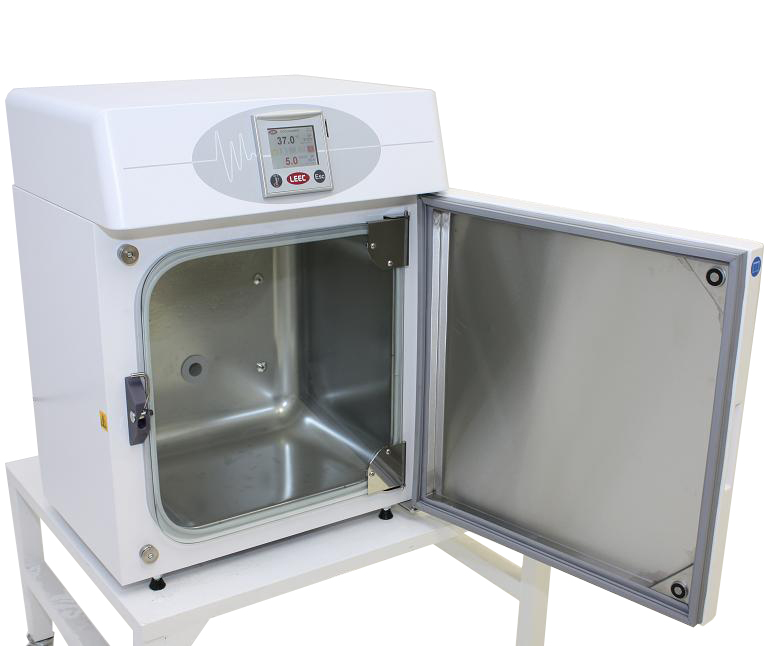 LEEC mini Culture Safe Touch CO2 incubators have a fully sealed, one-piece, deep drawn chamber, which is manufactured from 304 grade stainless steel. The outer cabinet is manufactured from stainless steel, and has an anti-bacterial polyester powder coat paint finish as standard. This gives the CO2 incubator exceptional resistance to corrosion and contamination. An inner glass viewing door closes positively onto an inert VOC free gasket (no volatile organic compounds) and allows a clear view into the chamber without disturbing the internal atmosphere. The outer door has a magnetic gasket providing a good seal. A 24mm rear access port allows temperature monitoring probes to be inserted safely into the CO2 incubator chamber.
The multi-function, PID colour touch screen controller regulates the temperature, CO2, alarm functions (including low gas and power failure alarms) and provides real time data logging in graphical and text format. The controller also allows data to be downloaded onto a removable SD card. An independent safety cut out disconnects the heating system should an over temperature condition occur. The controller can be password protected, stopping any unauthorised adjustments to the control systems by other laboratory staff.