NUVE FN 400/500 Economical Dry Heat Sterilizers / Ovens
Offering a low level alternative to the other FN models, this series can be stacked. It is available in a choice of aluminum lining (excellent when temperatures are going to be varied) or stainless steel (P models, the choice for maximum temperature stability). N-Prime™ control system ensures rapid attainment of the target temperature.
Main features:
Two different sizes: 44 and 120 liters
Temperature range: Ambient Temperature +70°C / 250°C
Suitable for drying, warming and heating, heat treatment and long term stability tests in research and industrial laboratories
The door, pressing firmly and tightly on the chamber gasket, reduces temperature loss
Easy programming with one button, just turn and push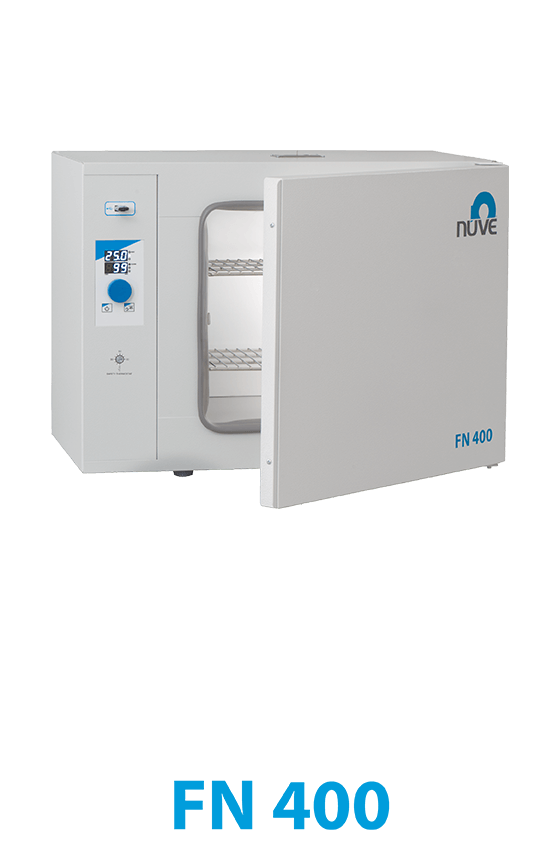 The timer function lends itself to drying, so that the dried contents are back at a low temperature at a convenient time, and for sterilization, so that it is certain that the contents have been subjected to sterilization conditions for an adequate period. Out of range alarms alert the user in case of a power interruption.
Forced ventilation is optional. It is not required to achieve acceptable operation but is useful when the ovens are used for drying, since the removal of evaporated water vapour accelerates the drying process.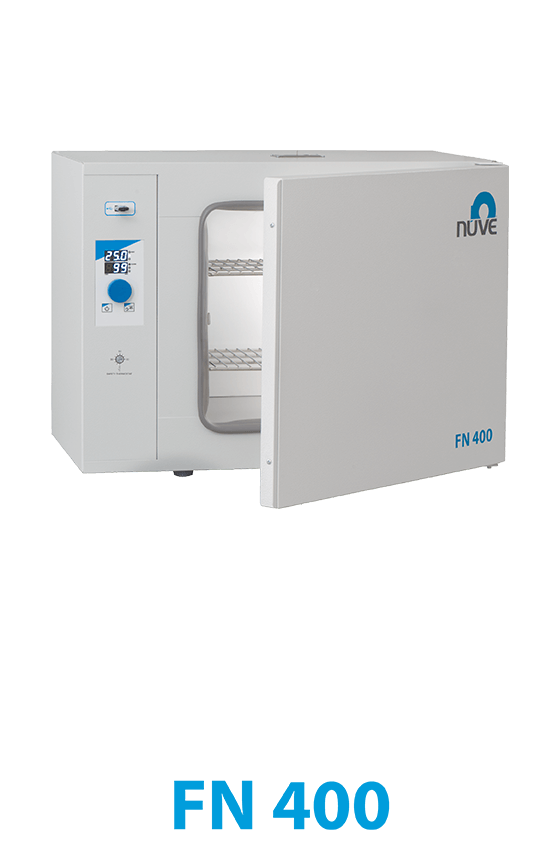 FN 400
FN 400P
FN 500
FN 500P
Temperature Range
Ambient Temp + 70°C / 250°C
Temperature Sensor
Fe-Const
Control System
N-Prime™ Programmable PID Microprocessor
Temperature Set and Display Sensitivity
1°C
Temperature Variation  (150°C)
± 2°C
Temperature Fluctuation
± 1°C
Programmable Alarm Limits
± 2°C / 10°C
Timer
1 minute – 99,9 hours + Hold Position
Delayed Start Timer
1 dk. – 99,9 hours
Selectable Recording Frequency on Memory Stick
10 or 30 second – 1 – 5 – 30 or 60 minutes
Chamber Volume, litres
44
42
120
110
Number of Shelves (Standard/ Max.)
2/7
2/10
Internal Material
Anodic-oxidated Aluminium
Stainless Steel
Anodic-oxidated Aluminium
Stainless Steel
External Material
Electrostatic Powder Coated Steel Sheet
Power Consumption
800 W
900 W
1600 W
1550 W
Power Ratings
230 V – 50 Hz
Internal Dimensions (WxDxH)mm
420x320x360
420x280x360
500x480x500
500x450x500
External Dimensions (WxDxH)mm
705x475x540
705x505x540
785x630x680
785x665x680
Packing Dimensions (WxDxH)mm
790x570x750
870x740x860
Net/Packed Weight Kg.
37/43
40/47
55/65
60/70