Ultrasonic Disintegrators from Branson
Branson Sonifier® ultrasonic cell disruptor / homogenizers are versatile laboratory units suitable for a broad range of liquid processing applications. The SFX Series brings a new level of ease, precision, and repeatability with advanced energy and temperature control modes, process monitoring capabilities, and programming features.
Main features:
Models that process samples from 0.25ml to 2L
High efficiency
Control modes include time, temperature and energy
Scrollable, multi-function screen with pushbuttons
Up to 20 stored programs
Amplitude control range from 10 to 100%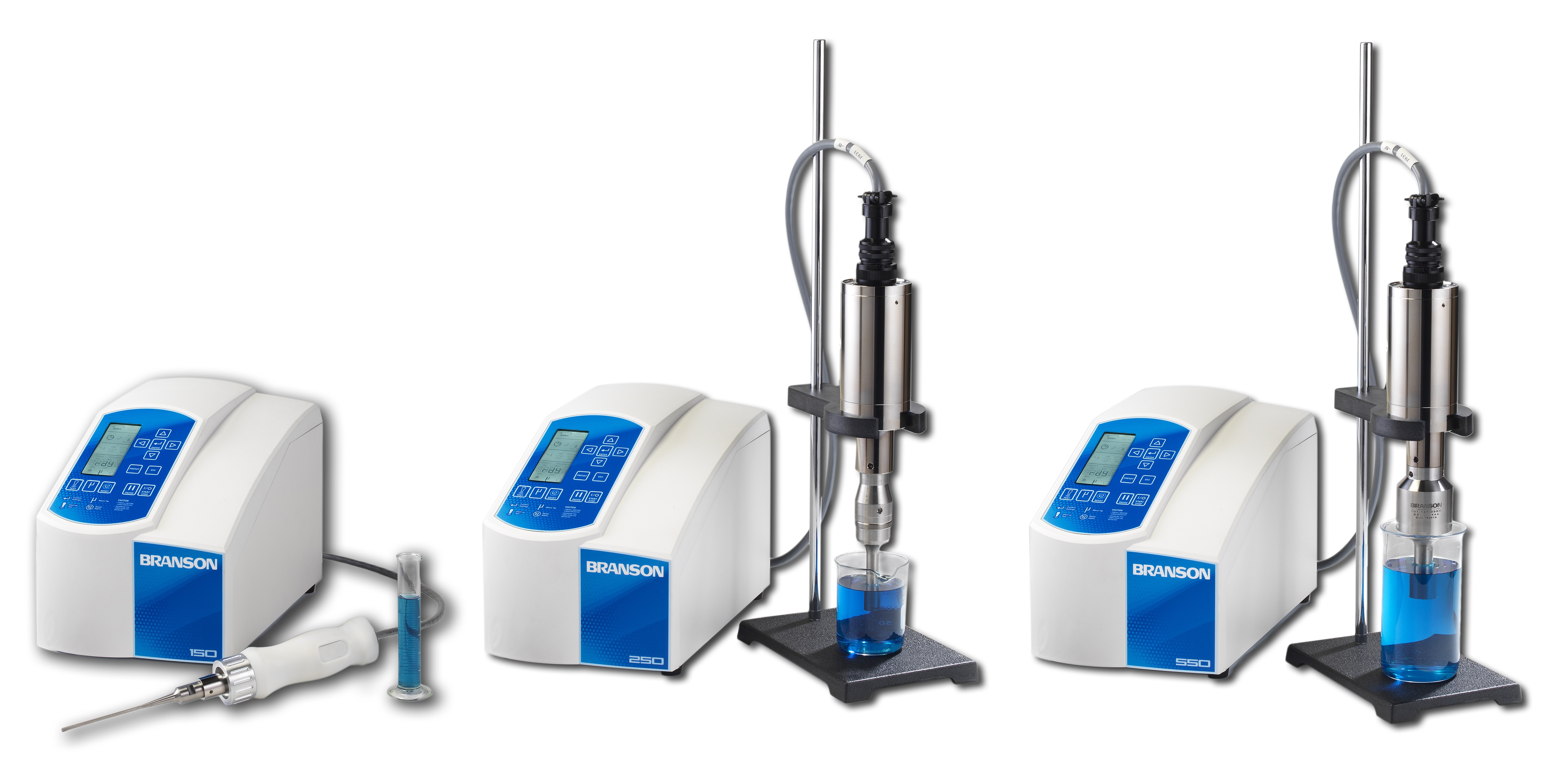 The new Branson SFX digital Sonifiers bring the industry's most advanced capabilities to your laboratory. Higher power levels. Precise energy and temperature control. Simple operation. There's even a handheld converter for low-volume applications. Power, visibility and control: That's the Branson advantage.
Designed for low-volume applications, the SFX150 Sonifier® delivers up to 150 watts of power at 40 kHz for quiet operation. It's the only cell disruptor and homogenizer of its type that includes a handheld converter designed for ergonomic comfort and easy control to simplify and speed your experiment. The recessed pushbutton helps prevent unintended activation, while the LED indicator light lets you know when it's energized. A conventional converter and stand can also be used, and the SFX150 includes all the same control and monitoring functions as the SFX250 and SFX550.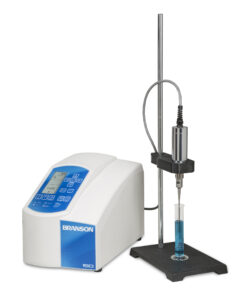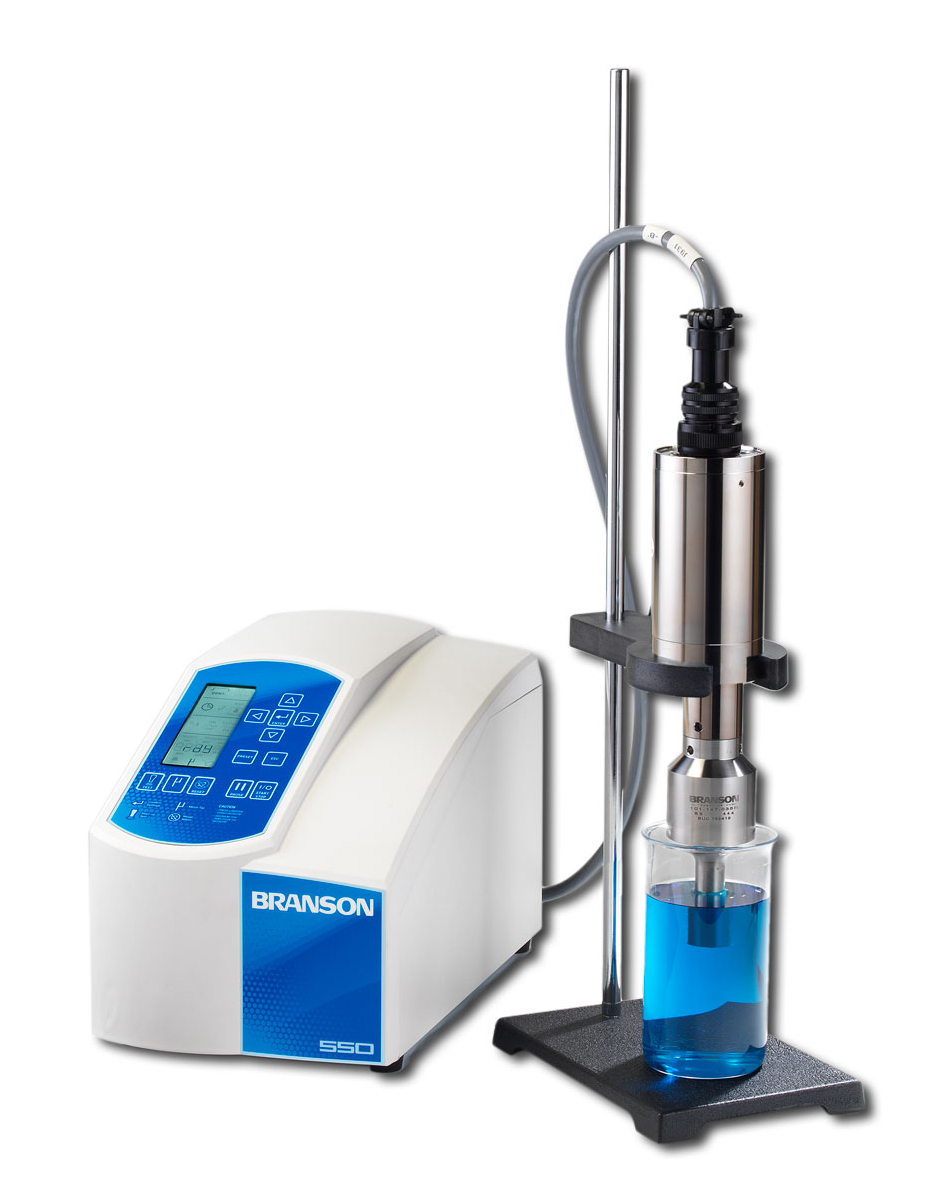 The versatile SFX250 Sonifier® is perfect for all but the highest-volume applications, providing up to 250 watts of output power at 20 kHz. Like all Sonifiers in the SFX Series, the SFX250 offers the industry's simplest user interface and the most precise control over all the critical parameters of your experiment.
The most powerful Sonifier®, the SFX550 easily handles high-volume applications with up to 550 watts of output power at 20 kHz. The SFX550 can process larger, viscous samples, but also provides precise control over energy output and other parameters to accommodate experiments of all sizes. All SFX Series Sonifiers provide exclusive Branson features including advanced energy mode and true temperature control.
An ideal replacement for the MSE Soniprep 150 Plus
The Soniprep 150 Plus, manufactured by MSE, was one of the most popular ultrasonic disintegrators in the laboratory market. Sadly, this device has been discontinued after over 30 years of production and spare parts are no longer available.
However, Henderson Biomedical is able to offer a suitable replacement to your MSE Soniprep 150 Plus.
The Branson SFX range of ultrasonic disintegrators is the ideally suited to your ultrasonic disintegration needs. Three different models are available: the SFX150, SFX250 and SFX500. All three have the same features except that the power varies from model to model: 150W, 250W or 300W.  These are all much more powerful than the MSE Soniprep 150 Plus.
There is a range of probes which can be used to sonicate different quantities of liquid sample. There is also a considerable range of optional extras that can be added to your Branson ultrasonic disintegrator package.
When it comes to these accessories, it is worth noting that there are some subtle differences between the MSE Soniprep 150 Plus and the Branson SFX range of ultrasonic disintegrators.
Firstly, the Branson SFX range does not come with an acoustic enclosure as standard and this is purchased separately. This is also the case with the stand, which is an additional cost to the instrument.
Secondly, the Branson SFX sonicators are fully programmable. This is one feature that the Soniprep 150 Plus never had, although there was an optional Process Timer Unit, allowing users to set up different sonication cycles.
The Branson SFK Sonifiers also have an optional temperature probe which can be used to monitor the temperature of the sample. This simply plugs into the back of the Sonifier and data is transmitted back to the display. Users can set a temperature limit which will automatically shut off the Sonifier if the set temperature is exceeded. Again, this sort of technology was not seen on the MSE Soniprep Plus, making the Branson SFX a far superior product.
Overall, the Branson SFX range of is a more powerful and more versatile ultrasonic disintegrator. It is easy to use and would certainly be a great addition to any modern laboratory.
Summary of differences between the MSE Soniprep 150 Plus and the Branson SFX Sonifiers:
| | | |
| --- | --- | --- |
| | MSE Soniprep 150 Plus | Branson SFX Sonifier Cell Disruptors |
| Power | 100 Watts | 150 to 550 Watts |
| Number of probes available | 3 (for volumes between 1ml and 100ml) | 11 (for volumes between 0.25ml to 2L) |
| Continuous flow vessel available | Yes | Yes |
| Continuous or pulsed ultrasonics | Yes (with an optional extra Process Timer Unit) | Yes. Built in as standard. |
| Support stand | Standard | Optional extra |
| Programmable | No | Yes |
| Acoustic enclosure | Standard | Optional extra |
| Temperature control | No | Yes |