The hv 300 K-V MediVac is a vacuum sealer machine designed for packaging medical, pharmaceutical and industrial devices. Using this equipment is incredibly easy. First, the user simply places the device into either a polymer vacuum film pouch or an aluminium laminate vacuum film pouch. The pouch is then placed inside the chamber with the unsealed edge placed on the sealing bar. The lid is then closed and the vacuum and gas flushing is activated automatically. Once the process is finished, the lid will open and the package can be removed. The end result is that your device is completely sealed and protected from the outside environment.
Main features:
Suitable for use in clean room
Validatable sealing process according to EN ISO 11607-2 and the international guidance ISO/TS 16775
Data transfering on USB-Stick
Touch screen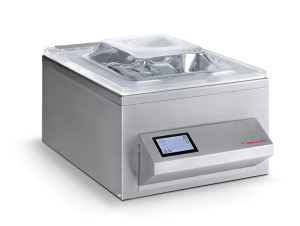 The communications module with a 4.3" TFT colour touchscreen has input applications developed especially by hawo that make operating the machine simplicity itself. Functions like Display of process parameters, recording on USB stick, creation and backup of 50 function lists, user statistics and password-protection are also intuitive and easily grasped.
The EN ISO 11607-2 (ANSI/AAMI ISO 11607-2) standard requires packaging processes of medical devices to be validated. When it comes to sealing, the critical process parameters must be monitored routinely. The new CEN ISO/TS 16775 provides guidelines for how to carry out process validation. During the validation of the sealing process, the parameters are determined for the packaging material being used. The process must then deliver the perfect sealing seam with these parameter settings. Professional sealing devices are therefore essential for the proper closure of medicinal device packaging. The hv 300 K-V MediVac vacuum chamber machine has an integrated function for monitoring critical sealing process parameters and therefore meets the standard requirements.