Eupry Temperature and Humidity Monitoring
As well as using Eupry to monitor the temperature of your refrigerator or freezer, the same data loggers can also be used for mapping.
Eupry's Mapping Kit is a convenient and cost-effective way of carrying out a mapping exercise. The loggers can be calibrated to ISO 17025 standards and can also comply with FDA 21 CFR, Part 11 if required.
What is temperature mapping and why is it needed?
Temperature mapping is the process whereby calibrated data loggers are evenly placed around an area to record measurements over a fixed period of time. The purpose of this is to gain an insight into the homogeneity and stability of the temperature in an area, identifying any hot or cold spots in the process. Equally, temperature mapping might be used to prove that a piece of equipment such as a refrigerator or freezer is operating as it should be.  Temperature mapping can also be used to help decide the position of where to store your temperature sensitive resources within a pre-defined area. It can also be used to better understand the effects of human interaction within the area.
Whatever your reasons for carrying out a mapping exercise, Eupry is able to offer you a fully compliant, cost effective solution using their calibrated data loggers.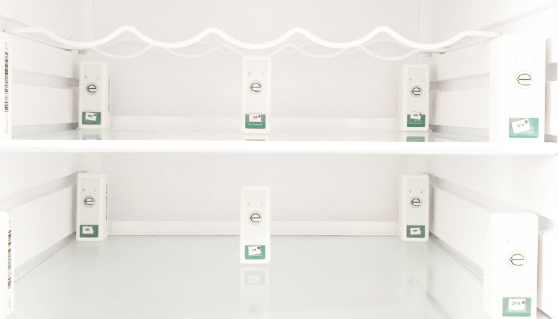 Examples of areas where temperature mapping can be carried out:
Refrigerators
Freezers (including Ultra Low Temperature)
Warehouses and storage rooms
Clean rooms
Shipping containers
Thermal packaging and boxes
Trucks, vans or entire fleets of vehicles
More information on temperature mapping can be found via a previous blog.
Please refer to the guideline from the World Health Organisation for more information on the technical aspects of mapping storage areas.
How it works
Every user will have different needs with regards temperature mapping. Therefore, the process will begin with defining your requirements to create a Mapping Plan. Here we will better understand your needs and decide how many loggers are required.
Once the Mapping Plan has been created, we will then send you a kit which will include data loggers and a WiFi router. The data loggers will be pre-connected to the WiFi router, meaning all you have to do is plug it in and distribute your loggers accordingly.
When the mapping exercise is complete, you can view the data in the cloud and download a comprehensive GxP compliant mapping report. You will also be able to download the raw data in Excel format.
Once you have finished with the Mapping Kit, you simply return it back to us. The whole process is non-invasive and does not involve any downtime.