Hawo HM 8000 AS / AS-V SealCut
The hm 8000 AS and hm 8000 AS-V eliminates this wastage as pouches are cut to the correct length every time. The user simply mounts one or more reels on the instrument and inputs the length and number of the pouches required. This data can be inputted either manually or automatically using a barcode scanner in conjunction with a variety of pre-set QR codes. The instrument can then be left to produce the pouches required for the department. Up to 5000 pouches can be made per hour and all of them are neatly collected in an adjustable tray.
Main features:
Wide reel holder up to 460 mm / 18.1 in
High productivity 14 cycles/min (> 800 cycles/h)
Less space 740mm
cutting mode: Pouches are precut and not sealed
sealing of pre-formed sterile barrier systems due to optional sorting module hm 8000 SD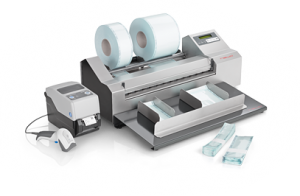 Operation and configuration are performed either via the integrated keypad or optionally using the innovative hawo IntelligentScan system. Different formulars can therefore be pre-programmed and changed with just a 'scan' (e.g. pouch length 30 cm / 12 in, sealing temperature 190 °C / 375 °F, sealing time 2 sec.). An optional label printer can be connected for labelling and documentation purposes. The devices can also be connected to existing batch documentation systems using standard RS 232, USB and Ethernet interfaces.
The high production rate, which results from up to 14 cycles per minute (over 800 cycles per hour), allows film pouches tobe produced cost-effectively. The extremely wide reel holder can support up to six reels of film, all of which can be used simultaneously. The machine can therefore produce up to 5.000 pouches an hour. In seal-only mode, the pre-made pouches are conveniently sealed after filling.